Safari Specialists are very proud to announce the top 3 prize winners of the Bots50th Photo Competition!!
A HUGE thank you and congratulations to our participants, we received well over 1000 entries, with a particular rush at the last minute – of course!
Judging was tough and we called upon a local skilled photographer Lelani Badenhorst to assist with her expert eye as well as a small panel of local community members.
Due to the overwhelming response on the Wildside category and limited entries for the additional categories, we have integrated the categories into 3 overall prizes. Two Prizes for the overall best photographs (1st and 2nd prize) and an additional prize for the Bots 50 Flag Instagram category.
We would like to particularly thank the prize sponsors – Natural Selection, Ker & Downey, Bush Ways Safaris, Mack Air and Wild Horizons. Stay tuned to our blog and facebook pages for more details on these fabulous safari companies over the next few weeks.
1st PRIZE WINNER:  Michael Murphy with his striking giraffe image, capturing the water droplets. Michael wins our stunning first prize safari consisting of: 2 nights Meno A Kwena, 2 nights Camp Okuti, 2 nights Chobe Elephant Camp, 2 nights The Elephant Camp. 8nts-photo-competition-1st-prize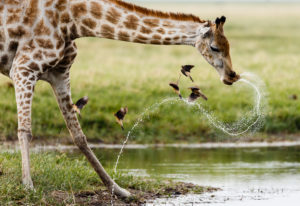 2nd PRIZE WINNER:  Dawn Perkins with her gorgeous leopard nestling on a termite mound. Dawn wins a fantastic 2 nights at Machaba Camp in the Khwai Community area.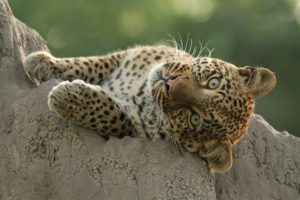 3rd PRIZE 'INSTAGRAM' #BOTS50 WINNER:  Sakhile Vanqa with his proud torch bearing photo at the Roving Torch ceremony in Taung containing the united and proud Botswana Flag.  Sakhile wins 2 nights at Chobe Safari Lodge on a dinner, bed and breakfast basis with selected activities included.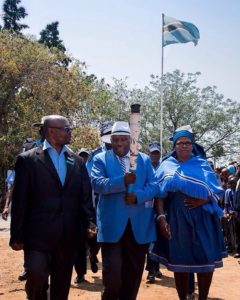 Congratulations again to everyone that participated. A special further mention to our other Top Ten finalists: Dan Miller, Nathalie Vershueren, Anja Dekker (2 images), Jolanta Saulys, Lennart Hessel, Pedro Lfa, Dennis Smith and Bernadette Gruenner.
PULA!!!