In the last few years Victoria Falls' activity options have multiplied with a lovely variety of fantastic experiences to choose from. Having visited 'adventure town' Victoria Falls in the past weeks we have outlined activities below that encapsulate the essence, culture and beauty of Victoria Falls. It would be remiss for guests to leave this destination without having done some of them.
Here are our favorite experiences in Victoria Falls, Zimbabwe:
Tour of the Victoria Falls
This is definitely a "Must Do". Even though we have visited the Falls before, their splendor is unsurpassed, and every visit is breathtaking and different. A standard guided tour suits most people, but other guests prefer to really savour some viewpoints at their own pace. You have the choice to either do a privately guided tour or do it on your own. Either way it's as exhilarating experience.

ZIP LINE across the Zambezi River Gorge 
For those who are not brave enough to jump off a cliff and bungee jump the gorge swing is your best bet! You will receive the ultimate adrenaline rush. The guides will show you everything you need to know about safety. You will never forget the thrill of a lifetime. Once you've done it you cannot help but feel the urge to go back and do it all over again. Make sure you bring your camera to snap those amazing pictures.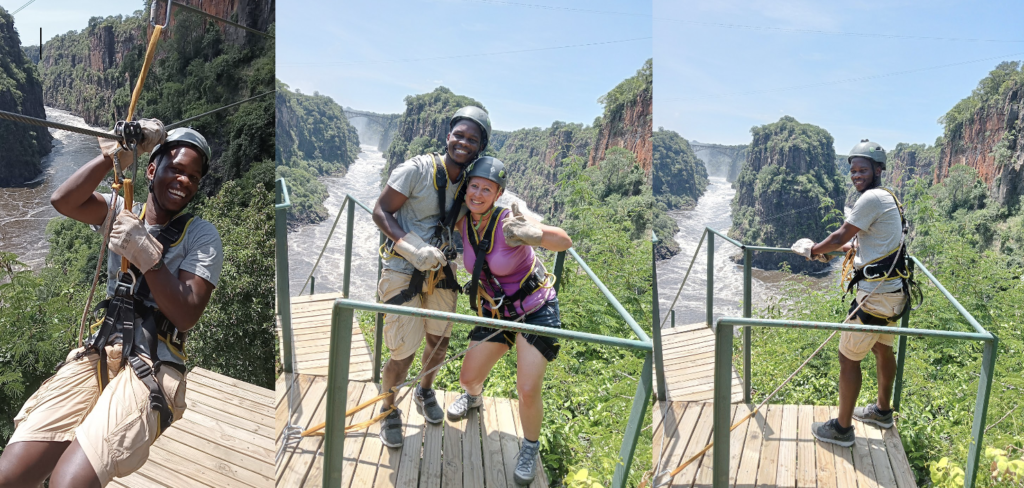 The Bamba Tram
This funky, not so well-known experience is one of our new favourites and therefore fits into the "Must Dos". The 19th century styled tram departs from town at scheduled times and meanders slowly for a few kilometers through wildlife country and onto the Victoria Falls Bridge. The host of the tram tells you the intriguing and fascinating history of the Victoria Falls Bridge which was completed in 1905.
On the bridge, you are allowed to disembark and take in the wonderful views of the Victoria Falls and also the Zambezi River Gorge below.

The Bike Tours
Discover the best of Victoria Falls on a bike tour. Guests have the opportunity to cycle along the Zambezi River, visit the famous Big Tree (a baobab tree estimated to be 3500 years old). Enjoy spectacular views of the Batoka Gorges below the Falls and cycle across the Victoria Falls Bridge. The bike tour is unique and is a definetely must do for families, groups of friends or anyone wanting to explore the town on wheels! 
We are excited about Bamba Bikes – the latest addition of Vic Falls' actvity offering, these e-bikes make exploring our favourite town even more fun.

Indulge your Palate!
Victoria Falls has many options when it comes to eating traditional food. 
The Boma Dinner has been a very popular restaurant for years. It is an interactive activity, as it includes a drum show, where guests join in and are taught how to beat the drum to the rhythm of Africa, in a highly entertaining show. It's more about the experience than the food, but the buffet spread includes traditional Zimbabwean food, from crocodile tail to warthog and a host of other morsels in between.
The 'Dusty Road' Township Experience is becoming super popular. The food is very tasty, set in a converted house in the middle of a high density township, with unique and quirky local décor. Just about everything used has been up-cycled, it looks fantastic, and the ambiance is authentically Zimbabwean. The waiters go into detail about how everything is home-grown, prepared and cooked. The experience gives you an in-depth insight into traditional African food and lifestyle. It's a fantastic evening out and well worth doing.

The Zambezi River Cruises & Aerial Views of the Falls
Last but not least "Must Dos" is to get onto the Zambezi River to see and experience it. Wildlife, such as herds of elephant, hippos and crocodiles are often encountered. Our preferences would be to do an afternoon sunset & dinner cruise.
Seeing the Falls from the air gives you a totally different perspective and is one to tick off your bucket list. Looking deep down into the gorge and the cascading water is breathtaking. 

Covering each and every single activity in Victoria Falls is not easy. We have focussed on a few top activities. If you would like to know more about everything on offer, then please don't hesitate to contact us on info@safarispecialists.net.
We would love to help you plan your holiday and make the most of your precious time.