What other travellers, just like you, have to say about our service, professionalism and knowledge of camps, lodges, parks and reserves!
DECEMBER 2021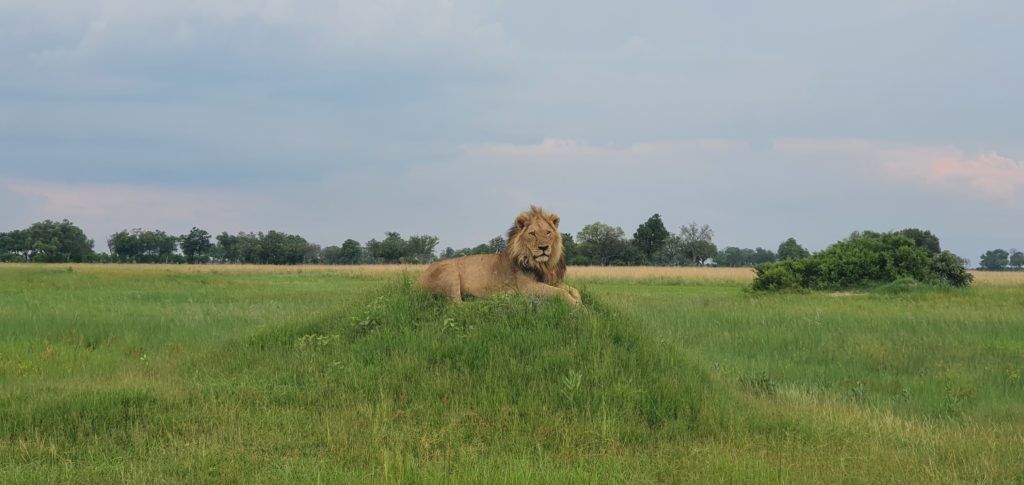 We had a wonderful time with various once-in-a-lifetime moments. Nadine, we had such a wonderful time and you created a tour that had everything!
All four areas were very different and pretty wonderful. Due to some rain it was lovely green already at many places. Chobe river front, with great mix of water and land sceneries in just few 100 m distance. Savute came with more arid and dry areas. Shinde was lush green and so beautiful as well as great mix of the green land with the water channels and elephant grass/papyrus around the channels; and the Kalahari at Dinaka was flowering desert with fresh grass, green bushes and anything flowering, blossoms everywhere. Awesome!
The lodges were great. At some we were even the only guest and except of Savute we even had "private" safari excursions the whole time. It always felt very exclusive. However, we hope that guest numbers increase soon for all those lovely people we met. Our animal sightings were wonderful and some even once in a lifetime, we saw almost everything, except hyena and wild dogs, including the big 4 –  Saskia and René
OCTOBER 2021
Nadine's guests Peter & Lindsay just returned back home with many wonderful memories of their safari which has started at the end of October at "Meerkat Capital of Botswana". Planet Baobab was their first stop from where they headed out to observe these gorgeous creatures! 'Unfortunately we did not get the quad tour because of the rain, but that was only a bonus for us. The main thing was the meerkats we visited. We finally saw those funny animals from close by, even with a small baby. The hotel was nicely build and convenient to visit the meerkats. Food was delicious, we could not believe it.'
The splurge in between at Setari Camp has been  a highlight to their  trip and they have enjoyed the slower pace. 'It was a lot cooler there, what a nice and quiet place!  The rooms/tents are amazing. In all of our voyages, this was one of the most luxurious and well managed hotels we ever did. The food was delicious and the managers were really very nice people, including all the staff. Although we saw lots of birds and our first hippos and also the water was very cooling, for us it is difficult for making pictures out of a boat.'
One of Botswana's most productive and reliable  game viewing areas – Khwai –  never disappoints  and it was at Sango where Peter & Lindsay felt that they now have "arrived" on safari. 'Amazing!!  This is we're we really felt us being on Safari in the middle of nowhere. Sitting in the pool with an elephant nearby, impalas in front and a hippo while having dinner. The staff was incredible!  Unbelievably good food and incredible kindness. Very good guide and we saw almost every animal we would like to see, even leopards with cubs'
From there up to Kasane town, staying at the Old House which was simpler guesthouse style accommodation in town – so not quite the same feeling as Khwai, but Chobe National Park didn't disappoint. 'Wildlife was great, loved the plains with giraffes, the bush with lions and cubs, the hippos and crocodiles and the birds of buffalos and elephants. But, it felt like more tourism oriented than Khwai area.'
From there they crossed into Victoria Falls to stay at Ilala Lodge – and got an upgrade to a deluxe room!  'Beautiful hotel and best place to visit the falls. Their excursion desk is very professional and we managed to do Devils Pool the same afternoon. Amazing. Our driver to the hotel gave us good info at the border with Botswana to obtain a Kasa visa which we could use the same afternoon including our PCR which was still up to date.'
'Final thoughts : a travel to remember and we can say we did a real Safari, old school style. Covid helped us a bit with the small amount of tourists which added to the remote feeling I guess.  But we see that this is not helping the local economy' – Peter and Lindsay
I booked a safari for my partner and I in October 2019, planning to visit Botswana in May 2020 – then the COVID pandemic hit and the trip had to be postponed. Kagiso was our agent and couldn't have been more helpful or patient, noting we had to move the trip twice as travel restrictions were extended. She freely offered expert advise on everything from different experiences depending on the season to appropriate packing. Also, your agent meets you at Maun airport to give you a quick debrief in person and make sure you easily get to charter flight. Overall, will be booking with them again for our next Botswana excursion! Angela and Anthony
This is the second safari trip I planned with Erica at Safari Specialists. I had originally planned the trip in 2019 for a 2020 trip but then postponed the trip due to Covid. Erica was helpful and attentive throughout the entire process of the original booking and the postponement. The camps she suggested for us in Zambia were the kind of experience we were looking for and the transfers between camps went seamlessly. I also like the fact they are a local company based in Maun, Botswana. I would definitely use Safari Specialists again for future trips. – Deborah and Don
SEPTEMBER 2021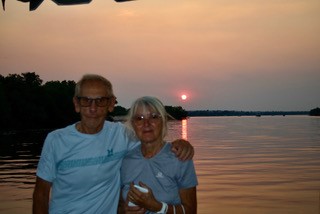 This has been the best journey we  have ever had in Africa. We had great expectations and when you expect much, sometimes you have some disappointments,  but Botswana gave us more than we expected.  And it was also fresh air after a Covid year!
The success of this journey is because of you, Nadine: you understood our exigencies and your suggestions proved to be really helpful;  the journey was well balanced : placing Setari in between the game drives made us relax, and leaving Nxai Pan at the end with such a different ecosystem was great.
As you can imagine we saw plenty of wildlife and this is a short summary of our highlights :
– elephant mating  into the water during the Zambezi  sunset cruise at Vic Falls
-a pride of 16 lions  with cubs at Chobe( first time we see cubs !!)
-a pack of wild dogs with puppies  in the morning and in the afternoon a leopard on a tree  at Lagoon ( the only one complete day we had at Lagoon: very lucky)
-amazing views at the waterholes with a great variety of game at Nxai  pan  where the last morning a cheetah cam to camp to give us a nice farewell .  Here we were particularly impressed by the Baines Baobabs which has  been one of my favourite site
-a male Sitatunga  at Setari , which they said is not easy to spot.
– 2 big prides of lions with cubs , a cheetah ,a group of almost  hundred of buffalos at Kwara , a lot of red lechwe jumping between a swamp and another big lion pride with cubs .
And of course elephants and elephants  everywhere : never seen such a number of them! We loved the safari boats at Setari among the tall papyrus : we didn't expect such wonderful scenarios . But also the safari boat  at Kwara  was stunning and so different from Setari. – Anna and Francesco
AUGUST 2021
Thank you Bronwyn, the whole trip has been an amazing experience! We have reviewed all the beautiful photos we have taken and we were also able to share our experience with family and friends. All of them were so amazed and very happy to hear about our adventures.  Thank you again for your tireless dedication and your great support for this rather complicated trip we had planned. We are so happy that everything went well, and it was a great pleasure seeing you in person! 🙂 We hope one day to be back and re-experience the beauty of Botswana – Alberto & Gema
JULY 2021
Kagiso, we had a wonderful trip! Thanks again for coordinating everything, especially when we couldn't leave Botswana and had to stay for another day. I will write a review and send photos soon! – Kelly
Nadine, I would like to thank you for creating an exceptional vacation for us!  It was as if you took the safari of my dreams and made it come true. We loved Splash, Lagoon and Jack's Camp. Each offering a different environment as you so expertly planned. I have never experienced anything in the realm of jack's camp, it was so opulent, yet inviting. Thank you to TT for kindly assisting us at the airport and for the wonderful guide book! – Amanda and Brad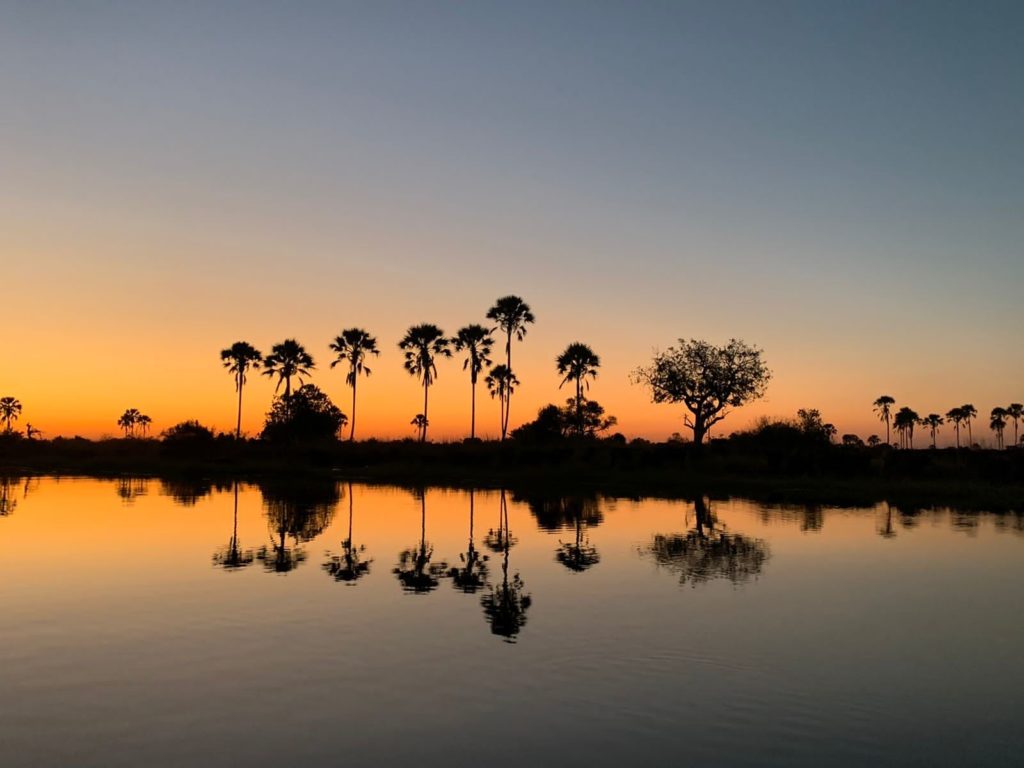 Hi Lisa, we were so well looked after at Moremi Crossing and we had the very best guide, Amos who showed us some amazing birds including a Pels fishing owl. On one of our boat trips we went through a large pool with over 100 hippo, that was an experience we won't forget . They also took us on an overnight campout that was so much fun as well. We all want to come back again soon. It really is a very special place.
Thanks again so much for everything you did for us – Chantal
I had a wonderful trip Erica, thanks to you. I will be back! Jao Camp is beyond luxury, the rooms are over the top and Mombo is an excellent camp with exceptional game viewing – better than 3 or 4 of my other trips combined, it was like a zoo!!! – Glen
Hi Erica, we had a wonderful time, thank you! And a happy 7th birthday surprise for our daughter this morning at Camp Moremi. The meerkats and quad biking were excellent at Planet Baobab too. Thank you for all your help – Melanie
JUNE 2021
Thank you SO much for all the help in planning our trip Lisa. We had such an amazing time and loved every minute. Each camp was incredible, and it was the perfect blend of different environments. All of our travel between camps, including getting all the COVID specifications done, went very smoothly. I know it was complicated to have us delay for a year, so we're very thankful you were able to walk us through everything, and it was so nice to see you in person in Maun after a year and a half of emails! – Louise and Jordan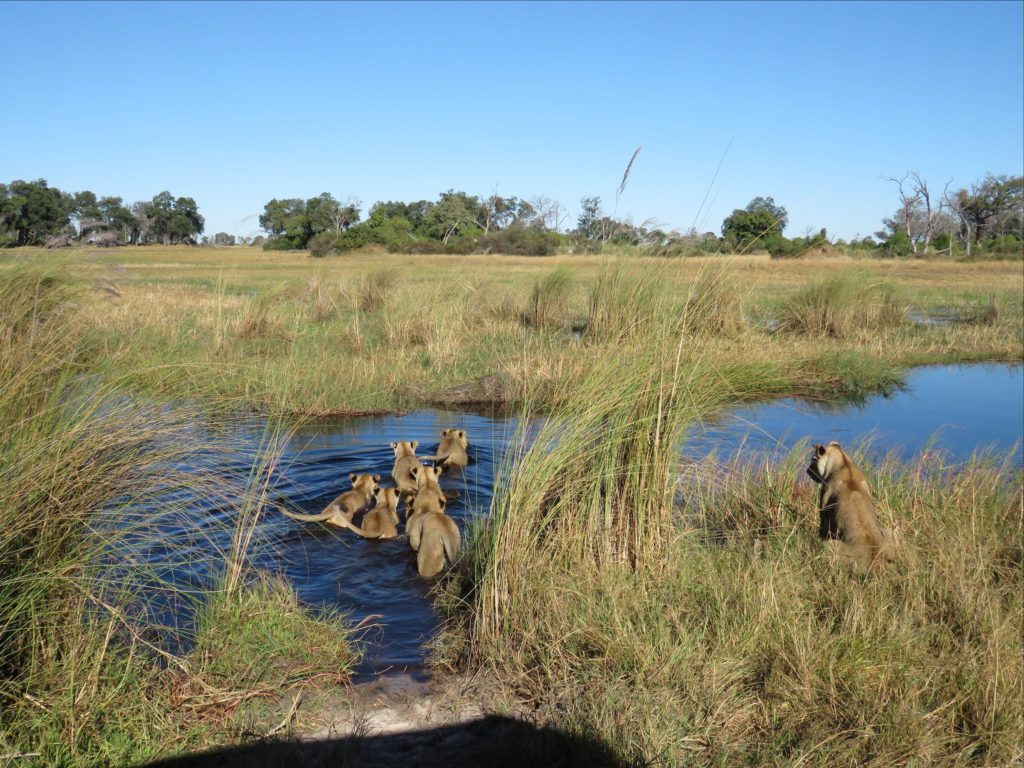 I caught the most amazing photo of lion swimming in front of Duba Explorer's Camp, enough said, I was very happy 🙂 Every camp was awesome in its own way, was happy with the choices and the advice you gave Lisa and will be in touch again when Botswana beckons….When does it not? – Jo
MAY 2021
Our trip was just amazing Nadine! Every single thing went according to plan. The flights, testing, transfers, everything. It's so hard to pick out the highlights as I feel like the whole trip was! Every camp had different game drives with different experiences. The US could surely learn something about hospitality from you guys in Africa!!  I think it's in your DNA! I can't thank you enough for ALL of your patience throughout the last year with all the cancellations and re-bookings. It was worth the wait!! We were so blessed to have your help every step of the way – Espe
My wife and I visited Botswana early May 2021. We booked our trip through Safari Specialists and our agent was Bronwyn. She made the recommendations of the camps and they were fantastic. We spent 11 days in the bush, we visited Mma Dinare, Splash, Savute Safari Lodge, and Chobe Elephant Camp. All of the game drives were fantastic and the hospitality was outstanding. Trip of a lifetime – Randall and Doris  – watch their  Botswana Safari on youtube!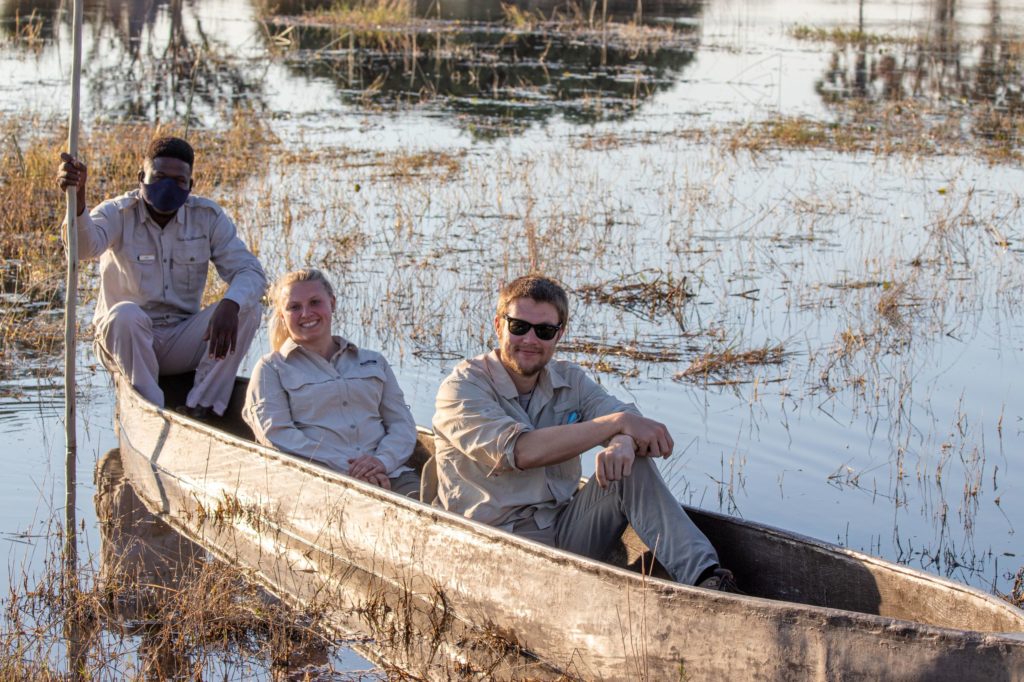 Kagiso, we had an incredible time, and I'm not sure how we could possibly top it when we take our next trip. Chobe Bakwena and Batonka Lodge were both great, and Mma Dinare was probably the best place we have ever stayed at on any trip we have taken. We got to sit on our tent balcony and watch elephants play in the river in front of us! I loved the experience of flying into the airstrip in the Cessna, and sitting at the campfire we had the best views of the stars I've ever seen. Elephant, giraffe, two male lions, lionesses, and even a leopard! I had so much fun taking pictures. Grass and Sam at Mma Dinare were essentially our private guides the whole time we were at Mma Dinare since there were so few guests. The only animal I didn't get to see that I really wanted to was a cheetah, but I understand that those are hard to come by. I think we will have to come back to the Okavango Delta again! Ben and Sam
FEBRUARY 2021
'We really wanted to send you our sincere and deep appreciation for helping us to have what was an incredible and magical experience. I'm not quite the experienced graphic designer yet but hope you enjoy the card :). Take good care.' – Yann and Valerie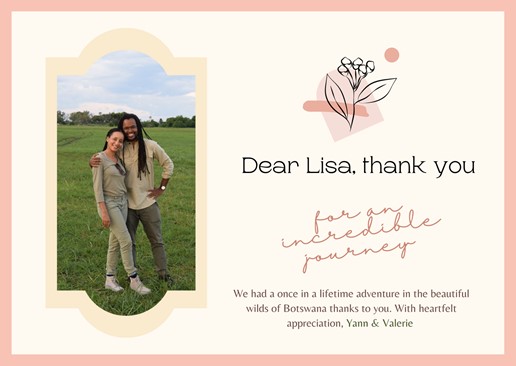 JANUARY 2021
'We are all so impressed by your work, I knew I had chosen the right people to help us with this amazing adventure, but I must say our expectations have been exceeded. I really hope we can see you in 2022 and thank you personally!' – Marie
OCTOBER 2020
'Thank you for the exemplary customer service through this difficult year. When I do come to Africa, and I will, I will only deal with you. You have my deep appreciation and loyalty. Thank you!' – Aaron
SEPTEMBER 2020
'Thank you Bronwyn for your help for this wonderful journey in Chobe and the Delta. It was amazing and relaxing.'  – Benoît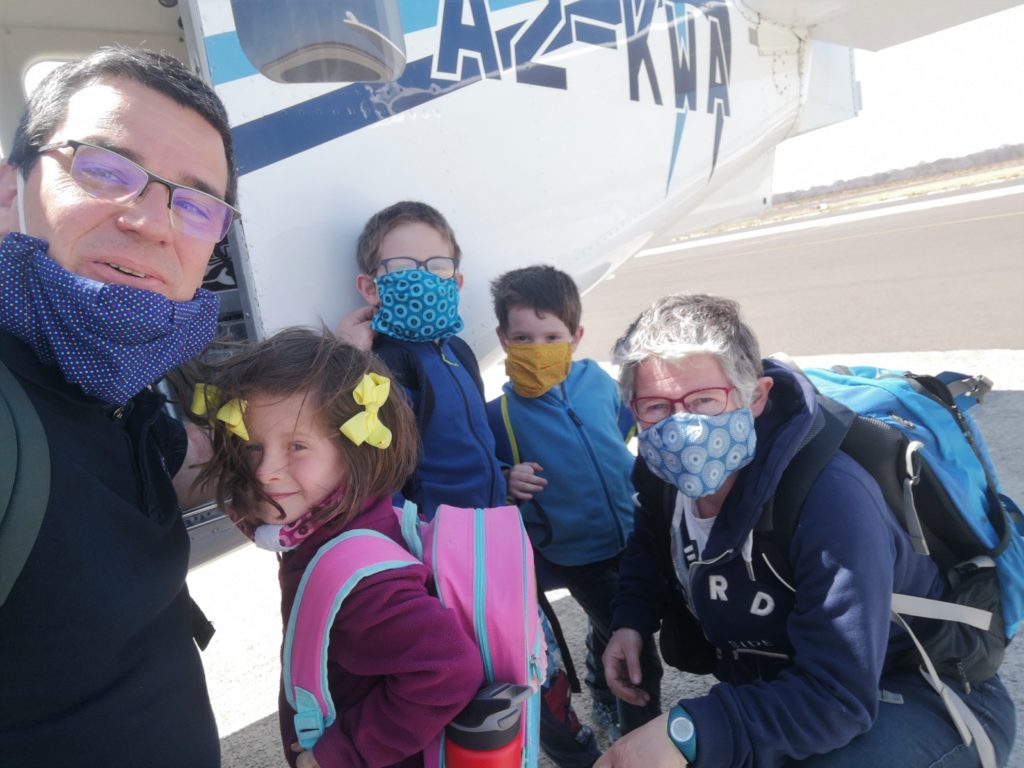 MAY 2020
'Thanks for the prompt response to our request. I am really impressed with your professionalism. As you may know, our planned Safari trip is a big reunion of our University friends after graduating almost 40 years ago. Everyone was really looking forward to it. However, many of us now fall into the high risk category if infected with the virus, so although extremely disappointed we really have no choice but to cancel our plan. Hopefully we can regroup and fulfill our dream next year. I am sure we will definitely come back to you for booking when the right time comes.' – Peter
'Let's hope all goes well by July 2021. Really appreciate the work you have done and special Thanks to all Camps to accommodating our request… Once again, Thank You very much for your help!!' – Pravin
APRIL 2020
'Thank you so much for talking to all the vendors and getting all this figured out. I'm hopeful that once all this is over and it is safe to travel again I will be able to re-plan this trip. In the meantime, is there a place I can write a review for you? I'd love to let your supervisor know what an amazing job you've done in planning and rearranging everything for us.' – Emily
'You're a star Nadine!!! I speak for all of us when I say that your service and hard work is highly impressive! Let us hope that the Covid-19 situation soon has reached its peak and that all of us can get through the aftermaths as well as possible. Stay strong and hang in there!' – Marie
'Thanks very much for your efforts on our behalf.  We look forward to our time in Botswana at the end of our new countdown. All our best to you and the Safari Specialists' team and your families.' – Martha and Grant
MARCH 2020
'Jane and I wanted to let you know that we are back from our safari… and to thank you so much for another wonderful experience. Everything you planned for us worked exactly as you laid out – no surprises…
'Sanctuary Ngorongoro Crater was the most pleasant camp as far as temperatures and bugs (there were none) were concerned.  While not in the same league as Swala in terms of facilities and views, their location inside the gate for the northern descent road was a big advantage.  Again, the late rains made about half of the crater floor unreachable (roads were too muddy and vehicles were getting stuck) but we still saw a lot even if some of it was from a distance…  We would definitely go back.
'Siringit was a lovely camp and we were shocked that on our second and third days there, we were the only ones in camp (there was only one other family the first night).  The tents were very nice and the views were what one imagines when thinking of the Serengeti… The game viewing in the Central Serengeti was more challenging because of the tall grass and getting to some locations was more difficult because of flooded or washed-out roads. Still, we were glad we elected to visit the area. On our drive from Ngorongoro to Siringit and from Siringit to South Serengeti, we encountered parts of the Great Migration so that worked out just fine.
'Sanctuary Kichikani had tents almost identical to Ngorongoro Crater Rim Camp minus the hot showers which were installed in Ngorongoro in the last 2 months; however, the bucket showers were just fine and added to the whole experience of being on safari.  The views from the common areas were very beautiful and made for some lovely sunsets.  The camp was very remote… As expected, this is where we most of our encounters with the herds from the Great Migration.
'Wayo Manyara Green Camp was in a lovely location and the staff made it more special by setting up the tables for meals in locations along/in the river/waterfalls. The camp is much more basic than any of the others we stayed at and we knew that going in… Again, the game drives were greatly impacted by the longer than normal short rains. Many of the roads close to the lake were under water as was the boardwalk. The guided walk with the Tanapa guide was not possible because the area of the walk was flooded so a canoe ride was substituted… This was the only park at which we saw the climbing lions.
'Rivertrees was very nice. The grounds were beautiful and the rooms were nice even if they did not have A/C – thankfully they had a ceiling fan… We are very glad we made this safari – we enjoyed the variety of landscapes and wildlife we encountered… We were very happy with Allan, our guide/driver. Would we have done things a little differently? Yes and we will keep those lessons learned in mind when we plan our next safari.
'Again, thank you for all your effort and help in putting this trip together.  We will be in touch when it is time to plan the next one.' – David and Jane
FEBRUARY 2020
'The trip was beyond fantastic and everything went unbelievably smoothly, without any hitches at all. Just for the record, Qartar Airways is the best airline, with great service and very convenient access to Tanzania which minimized jet lag.
'Max from Wayo met us at KJO with an easy transfer to Rivertree Inn. Very comfortable in a quiet and pretty setting. Good dinner and breakfast. Perfect entry point to Africa. The next day, in the pouring rain, we met our guide, Meydokenya. Can't say enough about how much we enjoyed his steady and informative presence. A seasoned pro. We appreciated having him all week and really bonded with him through many hours in Bessie (the vehicle) with a number of extreme vehicle rescues due to the late rains though the week. We drove to Lake Manyara in the rain, but the rain cleared as we entered the park. We enjoyed the forested countryside and the dramatic Rift Valley in the Lake Manyara National Park.
'Our Wayo camp had the most fantastic setting under the waterfall and right on the sandy banks of the river. We loved the background sound of the waterfall. While the accommodations were more rustic than we expected… we actually came to like the more "camping feeling." Of course, the tent was very comfortable with good bedding and netting… There was a very cool little walkway between our tents so we could visit with the girls without concern about what might be lurking in the dark outside the tent. Camp staff was fantastic. Lu had her 65th birthday and the staff serenaded her with an elaborate African birthday song and dance that made for a totally memorable celebration. Due to high water levels, we weren't able to take the lakeside walk but still enjoyed our vehicle safari. Great birding! But best of all was spotting two leopards that had been "honeymooning".  The male slipped behind the truck but the female trotted down the road in front of us with her tail held high before climbing into a tree where we could admire her for quite a while before she came down and moved on through the underbrush. Fantastic!
'And then we had a nice ride to the crater enjoying the Tanzanian countryside before reaching the crater. Our first sight of the crater was unforgettable, absolutely breathtaking. We were a bit behind schedule (again, some rain while we were in the truck that stopped as we reached the crater). A short hike – which was good to stretch the legs…
'Wildlife and scenery in the crater was incredible, starting with an elephant leading us down the road from Sanctuary into the crater. One day was perfect – and by the time we left, the girls had already seen the Big 5, as well as scores of other animals and birds. A perfect day!
'Onto Nasikia Migration Camp. A beautiful setting above the river. A bit more appointed than the Wayo camps but still had a nice rustic feeling. My oldest girl had a zebra sidle up to the tent where she could hear it tearing grass with her belly right on the canvas. Again, excellent, friendly staff (the Tanzanians all seemed to be welcoming and positive throughout the trip). It poured rain our first night, which led to a series of extreme vehicle rescues throughout the day, including one of our own when we got stuck down by the lake chasing flamingos where we were pretty much out of cell and radio range. A bit of back country drama but eventually help arrived and everything worked out. We spent a good part of that day high and dry on the drier hillside watching a mother cheetah and two cubs playing and wandering. Maydokenya was great throughout with a steady, calm presence through the difficult wet conditions.
'We left through an exciting deep river crossing and started following the migration, watching some calving and the waves of Wildebeest. Very cool, and then on to the Naadi Camp. Again, a beautiful setting. Very rustic with the tents on the ground, no platform, but no rain so no problems. Giraffes were munching the tree tops right outside our tents. The manager, Cliff, turned out to be one of Meydokenya's brothers, so it was like a home coming of sorts. Again, the Wayo camp attracted a small group of other adventuresome campers (including a wonderful well-traveled Danish family with 3 children whom we really enjoyed) and great food that was hard to believe in such a simple setting. We took off for a short ride through the Serengeti the first afternoon where we immediately encountered some lazy lions. And the camp had a large number of eagles, buzzards and vultures soaring overhead. The next morning when we headed out we immediately ran into a cheetah walking along the side of the track whom we followed for a while. Great last camp!
'And then on to Katambanga. This was a fabulous choice on our first night out of the bush. New, beautifully designed, great setting. We enjoyed the comfort, lazed by the pool and just reminisced about how incredible the safari was. The manger, Noel, was great. The girls were ecstatic about the whole safari experience – Lu and I went to sleep every night in the bush to the girls' laughter from the next tent, and woke up every morning to the same. Absolutely unforgettable fun.
'Again, a seamless transfer to the airport for an easy flight to Zanzibar with a seamless pickup at the airport and transfer to Jafferji House. Beautiful small cool hotel with a perfect setting. Loved wandering around Stone Town, with a great perch on the rooftop restaurant/bar to take periodic breaks from the heat. The AC was critical!
'Loved Hodi Hodi. Small, intimate with a great staff. Julia, the owner, has done a fabulous job (she asked that we introduce you to her directly). Charlie, the manager, turned us on to a great local fish restaurant – Fuhara – and took us to a small performance of a Tanzanian musician, Ashimba, which was very special. We didn't realize dinner was included, but that was certainly appreciated. A perfect relaxing ending to a perfect trip. We all agreed that every part of the trip was fantastic and that you and your team did a wonderful job planning the trip that was so perfect for us. Many thanks for your good work. We're already thinking about another family trip next year (with plus one as my youngest girl is getting married this summer). It will be fun thinking about where to go!! Again, thanks so much!' – Ian
JANUARY 2020
'I just got back, and I am extremely happy with how the trip went. I wanted to thank you and Bronwyn for all your help and advice. We really liked both locations and value propositions. I think the set up worked out perfectly, since both experiences are very different and complementary. I would recommend you keep offering these options in that order. Chobe allows you to clear most of the animals, and see some of them really close. Then, complementing that with the second part, where you can go off-road and follow animals and get more picky on what you do and see, just works out perfectly. I hope to repeat the trip soon. In the meantime, we mentioned to Bronwyn, that we recommended the trip to our friends, and Alejandro is looking into it.' – Nicholas
2019
'We are home now having had a fantastic holiday. All the places you arranged for us to stay were great and all the travel/transfer arrangements went very smoothly. Our favourite was Mupala because of the isolation, the closeness of the staff, and the amazing game viewing. It was a completely unique experience for us and one that we would certainly recommend to others. But all the options were really very good. Thanks so much for facilitating our amazing experience.' – Fiona

'We are safely home and beginning to settle into our routines after the most amazing holiday we have had! Thank you so much for your assistance and contact throughout the booking process and your availability to answer all our questions before and during our trip. Although it would have been nice to experience the water in the Okavango Delta, in the end it made our game sighting even more richer. Although we loved all the Sanctuary resorts, Chiefs Camp was the best on every score.' – Sue and Ted