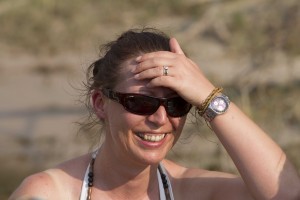 By Nadine Pittorino
There is no such thing as malaria in Germany but yes, we still get these little irritating mosquitoes. On my very first trip to Botswana I wanted to be as much prepared as possible and one of the most important things that I had to pack was a good mosquito repellent.
Little did I know back then, so I figured it was best to go to a pharmacy at Johannesburg Airport as I thought surely they have the much better "stuff".  They were very happy with me as I ended up buying a whole bunch of things from sprays for body, shoes and clothes to bands around the wrist etc. It was expensive but I thought that surely if it is this expensive it will prevent any bug from coming close.
I learnt my lesson quite well,  as the expensive sprays that I lathered on did not only prevent mosquitoes coming close but also people,  as I was told they can smell me from 10m away and I had to admit myself the smell was really was awful.  Not only that but it was early September so there was hardly mosquitoes in Botswana anyway.
My personal preference these days is the supermarket stocked "Peaceful Sleep' that most Botswana camps and lodges provide which has a much more pleasant smell. I also try to use a natural deterrent I learnt from a bushman in Central Kalahari which is the wild sage bush.
Even better, a 'Gin & Tonic' also is a very good repellent due to the quinine and of course it is the number 1 safari sundowner drink as well.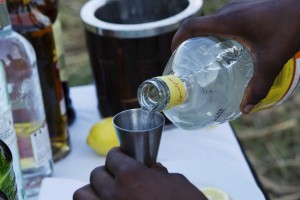 Travel tips to reduce your malaria risk:
The colder dry winter months have less mosquito activity, May through to October
Areas with less people have less risk of transmission, even if there is water – Kalahari, Okavango and Moremi area Private Concessions, Makgadikgadi Pans have a lower risk
You need to consult a travel medical specialist to find out what malaria prophylaxis will work for you, please ask about side effects and do a test run before travel.
Physical precautions are the best deterrent – long sleeves, long pants, mosquito nets, closing doors and windows as well as insect repellent
For our German guests, in Duetsche:
Wenn Du glaubst Du bist zu klein um eine Veränderung zu bewirken dann hast Du noch keine Nacht mit Moskito verbracht *afrikanisches Proverb*
Es gibt in Deutschland zwar ebenfalls Moskitos, welche auch richtig nervig sein können aber so etwas wie Malaria gibt es in Deutschland nicht. So war es für mich auch sehr wichtig so gut als möglich vorbereitet zu sein und eines der wichtigsten Dinge in meinem Gepäck sollte dann auch Insektenschutz sein. Nachdem ich noch keine Erfahrung hatte habe ich mich also mit jeder Menge Insektensschutz am Flughafen von Johannesburg eingedeckt da ich der Meinung war, dass es hier in Afrika wohl die besseren Optionen gibt wie im Vergleich zu dem was in Deutschland erhältlich ist.
Mit Ankunft in Johannesburg ging ich direkt in eine Apotheke um nach dem "besten" Moskito Schutz zu fragen – das Resultat dieses Einkaufes war, dass ich viele verschiedene Sachen eingekauft habe von Sprays für den Körper, Schuhe, Kleidung bis hin zu Armbändern. Es war ein recht teurer Einkauf aber ich sagte mir, dass wenn etwas so teuer ist muß es doch sicherlich jegliche Insekten fern halten.
Nun was kann ich sagen – dieser Einkauf war mir eine Lehre, da die teuren Sprays (welche ich nicht gerade sparsam angewendet habe) nicht nur die Moskitos ferngehalten haben sondern auch Menschen wollten mir nicht wirklich nahe kommen – man könne mich auf 10 Meter Entfernung riechen wurde mir gesagt und ich mußte selbst eingestehen, dass der Geruch wirklich scheußlich war.
Heutzutage ist meine persönliche Präferenz eindeutig "Peaceful sleep" was einen deutlich angenehmeren Geruch hat (ebenfalls deutlich günstiger). Von einem Buschman im Gebiet der Kalahari habe ich dann auch gelernt, dass wilder Salbei ebenfalls sehr gut ist um Moskitos fernzuhalten – dies ist mein top Favorit (man reibt die Blätter auf Arme/Beine).
Auf meinen Safaris habe ich dann auch gelernt, dass Gin & Tonic ebenfalls ein guter Moskito Schutz ist aufgrund des Quinine – natürlich ist es auch Nummer 1 Safari Sundowner drink.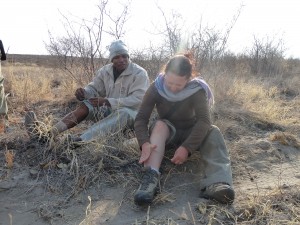 Tipps um das Risiko an Malaria zu verringern 
1. Die kälteren trockenen Wintermonate haben eine geringere Moskito Aktivität, Mai bis Oktober
2. Gebiete mit weniger Menschen bieten ein geringeres Risiko der Übertragung – selbst wenn Wasser in der Nähe ist – Kalahari, Okavango und Moremi Gebiete mit privaten Konzessionen, Makgadikgadi Pfannen haben ein geringeres Risiko
3. Sie müssen sich mit einem medizinischen Reisespezialisten besprechen um festzustellen, welche Prophylaxe am bestgeeigeneten für Sie ist. Bitte fragen Sie nach den Nebenwirkungen und führen auch einen Test durch bevor Sie reisen.
4.Körperliche Vorbeugungen sind am Besten – Langarm, lange Hosen, Moskito Netz, geschlossene Türen und Fenster wie auch Insektenschutz