Maun's very own Okavango Guiding School takes the classroom to the wilderness and offers a great adventure for those looking for something beyond a typical safari.
If you've always dreamed of driving a 4WD safari vehicle through thick sand and water crossings, 'trying' to pole a mokoro (it's much harder than it looks) and learning in detail about animal behavior, the Okavango Guiding School have created a new 7 day Bush Skills Safari that offers a lot more adventure and involvement than your average photographic safari!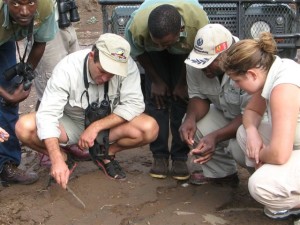 The Okavango Guiding School (OGS) has been operating in Maun for many years by highly experienced professionals and its primary focus was to provide a practical guiding course to standardise and improve guiding qualifications in Botswana.  OGS take on international participants whose fees help sponsor local students to give them the opportunity to further their experience and gain accredited qualifications. In turn the local participants share their knowledge on the history, culture and traditions of Botswana, providing a more holistic experience for all students. The full Botswana Guiding Course is 28 days and can be separated into shorter modules – but most of us don't have that much holiday time to spare and we are very excited to introduce the new 7 day Bush Skills course.
The Okavango Guiding School's 7 day Bush Skills course is based in the heart of the Okavango Delta at Kwapa Training Camp and places emphasis on the practical experience,  but you don't get away with it too easily as there is a lot to learn. The schedule is flexible (number one rule of the bush) and learning is discussion based rather than long tedious lectures. The students are actively engaged and the focus varies with different interests and opportunities presented by nature at the time!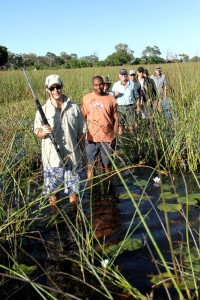 Some things you may get to experience on the Bush Skills Course:
 Tracking wildlife
Weapons handling
Poling a traditional mokoro (dug-out canoe)
Wilderness walks
Safari 4WD game driving
Plant and Wildlife identification
Bush sleep outs
Bush survival skills
For more inspiration check out what really happens at Kwapa Training Camp check out the video on http://youtu.be/g_k6QiJ5AxI
Contact us for more information on the 7 day Okavango Guiding School's Bush Skills course dates and rates for 2016.