Want to return to an old favourite or discover something new? There are plenty of options for safaris to Zimbabwe and Botswana, from no-fuss tents to ultra-luxurious suites. What they have in common are beautiful landscapes, genuinely warm African hospitality and some of the most spectacular game viewing in Southern Africa! Here are some of the properties that have used this quieter travel year to improve or rebuild.
Our Meerkat Ratings
Rating a safari camp is not like putting stars on a hotel. This goes beyond how comfortable the room is – it's the service, the guiding and, most importantly, the wildlife experience. We've used our expert knowledge, first-hand experience and taken everything into account to rate the following camps and guide you on the type of safari you want to have and how much you'd like to spend

JACK'S CAMP – MAKGADIKGADI | BOTSWANA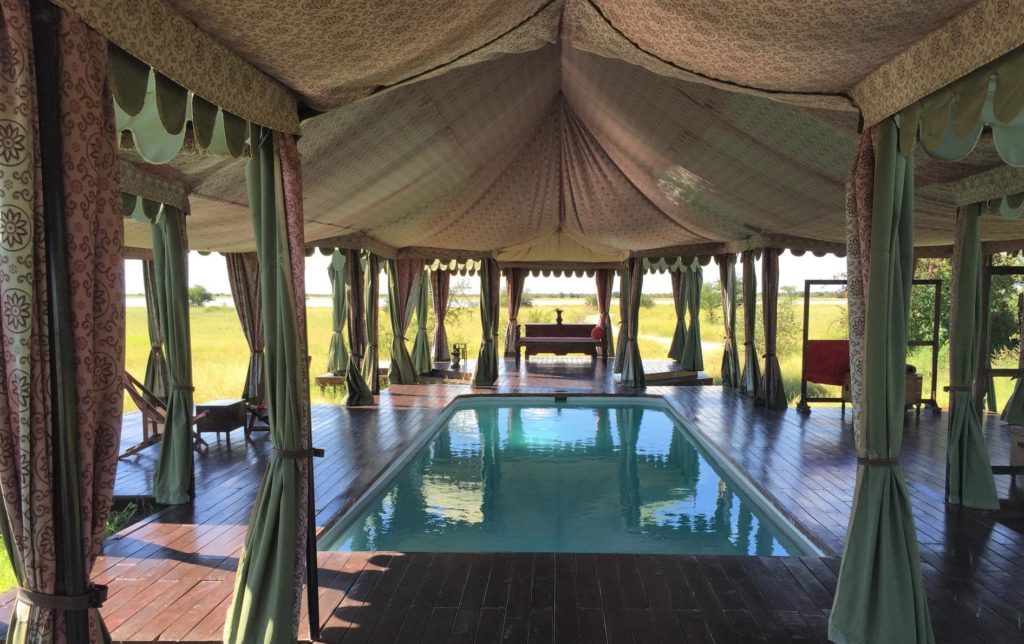 One of Botswana's most iconic – and outrageous – camps got a makeover during lockdown. Jack's still resembles a fantasy East-meets-West historical encampment and holds true to its explorer-style roots offering an experience fit for a king on the edge of glittering white salt pan. The tented rooms have been upgraded to large suites and now include several modern comforts like over-bed air cooling systems. Nowhere else can you swim in the pool tent in the afternoon having spent your morning keeping up with an active meerkat family foraging furiously for breakfast!
OUR MEERKAT RATING 6 Fit for a king!
WHY GO?                                                          
Unusual activities like quad biking (ATVs) on the pans and horse riding while having a welcome digital detox (no Zoom meetings here!) and finding true serenity as you'll be among the very few people in a million-acre wildlife reserve.
The chance to see desert-adapted species like brown hyena, black-maned Kalahari lions, steenbok, oryx, springbok and, of course, the world's second largest terrestrial mammal migration in the form of 50 000 zebra that move through from about January to April (the biggest is the much larger Great Migration of wildebeest between the Masai Mara and the Serengeti)
An on-site natural history museum curated by the founders of Jack's, who have deep roots exploring Botswana.
DUMA TAU and LITTLE DUMA TAU – LINYANTI | BOTSWANA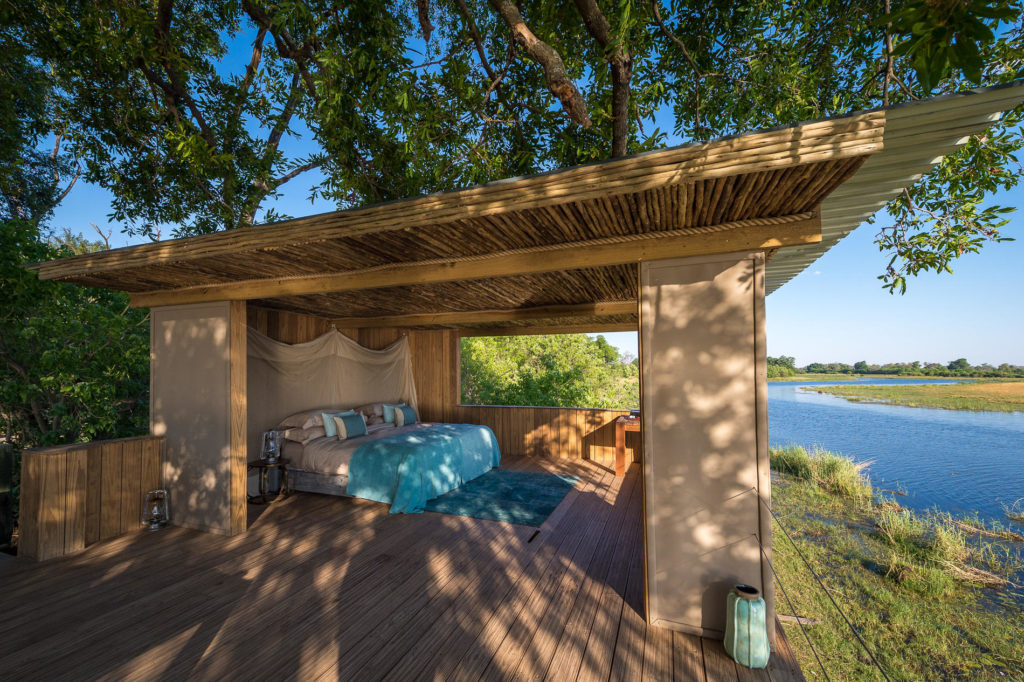 'Duma tau' means 'the roar of the lion' in Setswana and lions are almost sure to be spotted in the Linyanti. A long-time favourite, Duma Tau has been rebuilt and upgraded to Premier level. The creation of sister camp, Little Duma Tau, means there is an intimate property ideal for exclusive use by your family or group if you want complete privacy or Covid-security.
OUR MEERKAT RATING 6 Fit for a king!
WHY GO?
Uninterrupted views over Osprey Lagoon and situated in an Important Birding Area (IBA).
The Linyanti Wildlife Reserve offers incredible habitat diversity: look out for mega-herds of elephants, wild dog, cheetah and leopard and be a part of the 'Guest Scientist' programme.
All the little luxuries like a gym, a spa, private plunge pools, internet and never-to-be-forgotten activities like game viewing by helicopter and the use of a private vehicle.
MOGOTLHO SAFARI LODGE – MABABE | BOTSWANA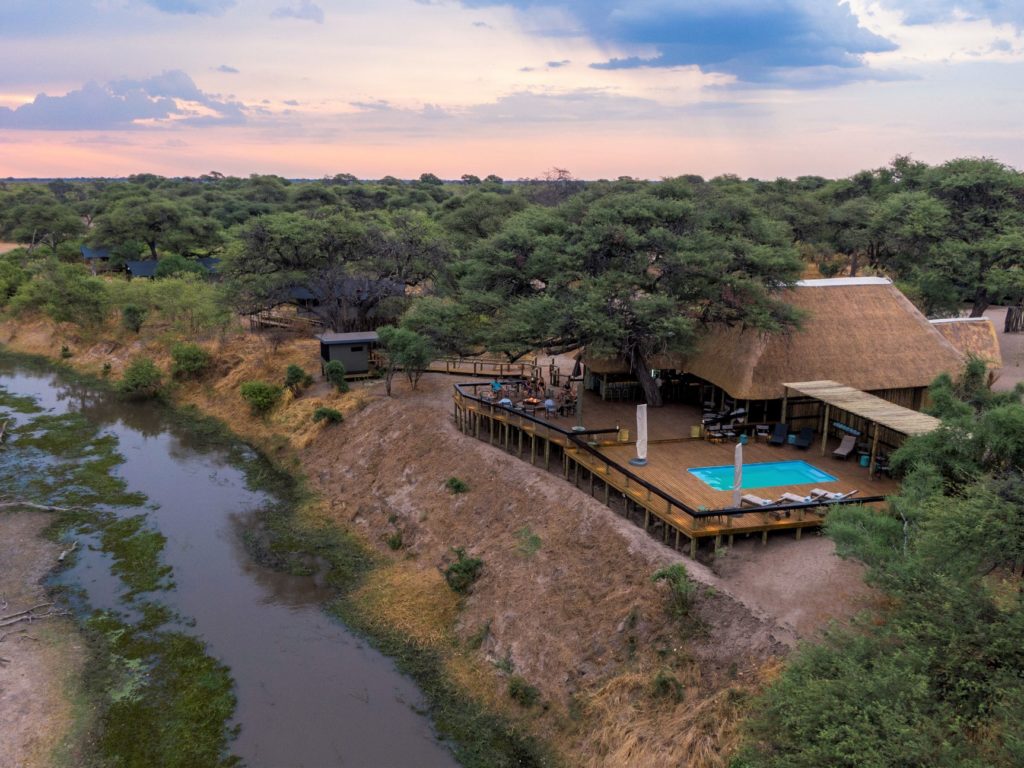 The traditional Mogothlo Camp on the Khwai River at Mababe has had a revamp. Named after the traditional word for the camelthorn trees that provide shelter and food for the wildlife in the area, Mogotlho is a laidback, barefoot sort of place where the focus is on the game and on-tap R&R, easy on the budget and great for families.
OUR MEERKAT RATING 3 A few little extras.
WHY GO?
Its location makes it an adventurous self-drive from Maun to stay within striking distance of Khwai, Moremi Game Reserve and Chobe National Park
Night drives, guided nature walks and full-day excursions allow you to really immerse yourself in the bush.
A family-friendly, flexible and affordable camp, welcoming children of all ages.
NOKANYANA – KHWAI | BOTSWANA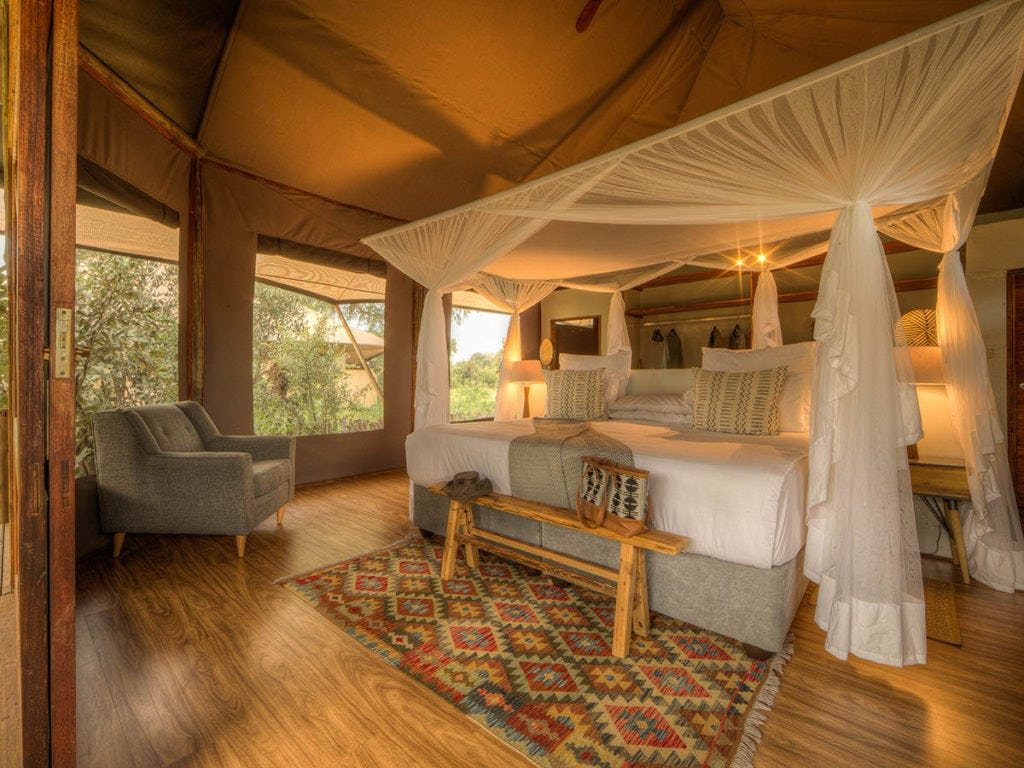 Another great value option on the Khwai River in the Mababe area, also named after a traditional word – this time, 'little river'. Nokanyana is a comfortable fully inclusive camp that is perfect for families and first-timers. The camp is removed from the busier Khwai Community area, yet with easy access to the prime wildlife areas of Savuti, Khwai and Moremi on game drives.
OUR MEERKAT RATING 3 A few little extras.
WHY GO?
Three family tents (that take up to five guests: two adults and three children -yes even families of five are catered for!) mean that multi-generational groups travelling on safari can be together at the same lodge but have their own space.
Beautiful views of the confluence of the Okavango and Khwai Rivers – bring your binoculars even if you 'don't like birds'!
Seasonal mokoro rides: there is nothing to beat being poled along in a dug-out canoe as you watch lilies, dragonflies, fish eagles, jacanas, kingfishers, painted reed frogs and everything else on the water pass you by.
SHINDE and SHINDE ENCLAVE – OKAVANGO DELTA | BOTSWANA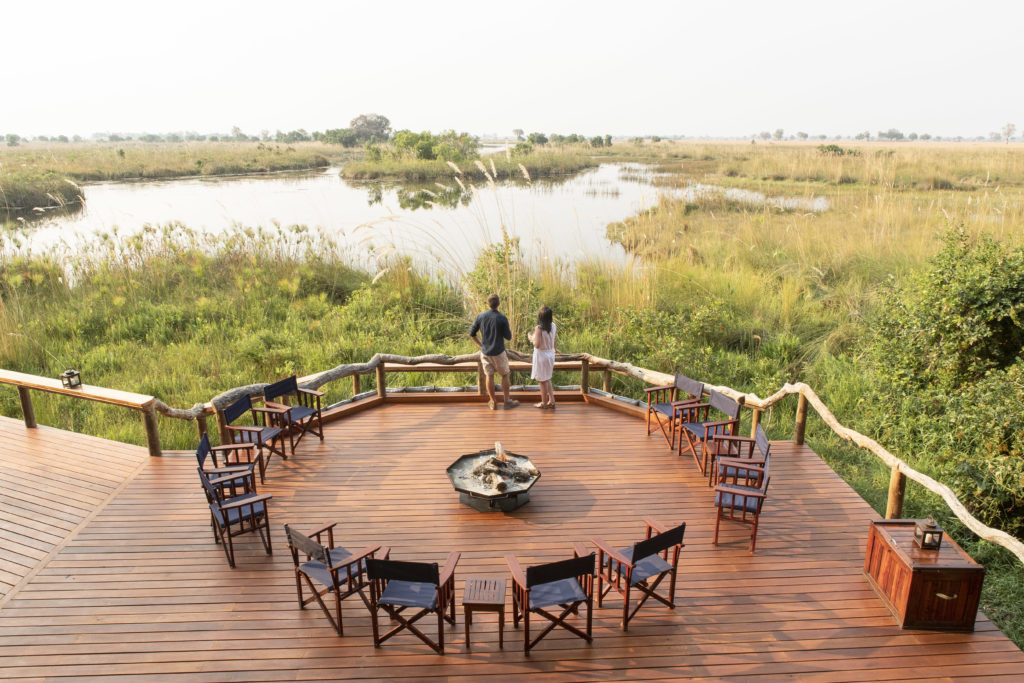 One of the very first safari lodges ever built in Botswana is still going strong. Being among the first, Shinde has an incredible position in the heart of the northern Delta, an area known for year-round game viewing and water levels. Shinde Enclave is a smaller camp, within Shinde, that can be booked privately for small groups or families, and both have been rejuvenated this year. What is remarkable is that the price has not leapt up and Shinde remains an excellent value, quality luxury camp. A positive development at Shinde is the new family tent, taking up to two adults and three children.
OUR MEERKAT RATING 5 Now we're talking…
WHY GO?
Shinde is chock-a-block with wildlife. With a combination of open grassy plains as well as permanent waterways, you experience such diversity as the rare Pel's fishing owl, elusive sitatunga antelope, lion, cheetah and leopard!
Because it is on permanent water fed by the Okavango, Shinde can reliably offer both land and water activities year round. This is not always the case in the Delta: water camps are sometimes too wet for vehicles and land camps too dry for boating or mokoro. Shinde gives you the best of both blissful worlds.
Because you'll be in a private concession, you won't see any other lodges' vehicles and will have the freedom to stay out after dark and go walking with highly trained guides. Shinde also guarantees window seats, with a maximum of four people in a vehicle unless otherwise requested, each with their own camera mount.
XUGANA ISLAND LODGE – OKAVANGO DELTA | BOTSWANA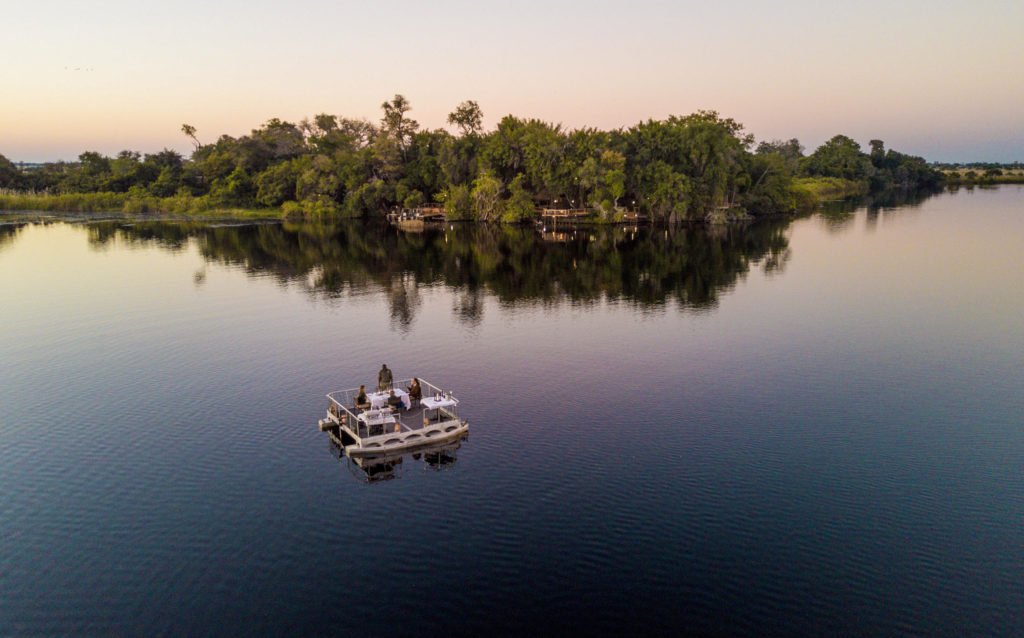 Think 'treehouses for grown-ups' – that's the sort of accommodation you'll find at Xugana (pronounced 'Koo-ghana'). The freshly updated suites chalets are on raised platforms overlooking the Xugana Lagoon and sheltered by dense ebony and mangosteen trees. Never mind that it's also on a paradise island with no-one else around…
OUR MEERKAT RATING 4 All the bells and whistles.
WHY GO?
Because it was settled way back in 1974 and was only the second lodge built in Botswana, Xugana has an amazing location (the first camp owners got the first pick of available spots).
A private concession means everything not allowed in a national park, like walking, night drives and off-roading, is possible here for an enhanced game-viewing experience.
The water-side fire pit out on the deck offers you some of the most intense views of Botswana's famously dramatic sunsets, especially in Green Season when the clouds are magnificent.
XIGERA SAFARI LODGE – MOREMI GAME RESERVE | BOTSWANA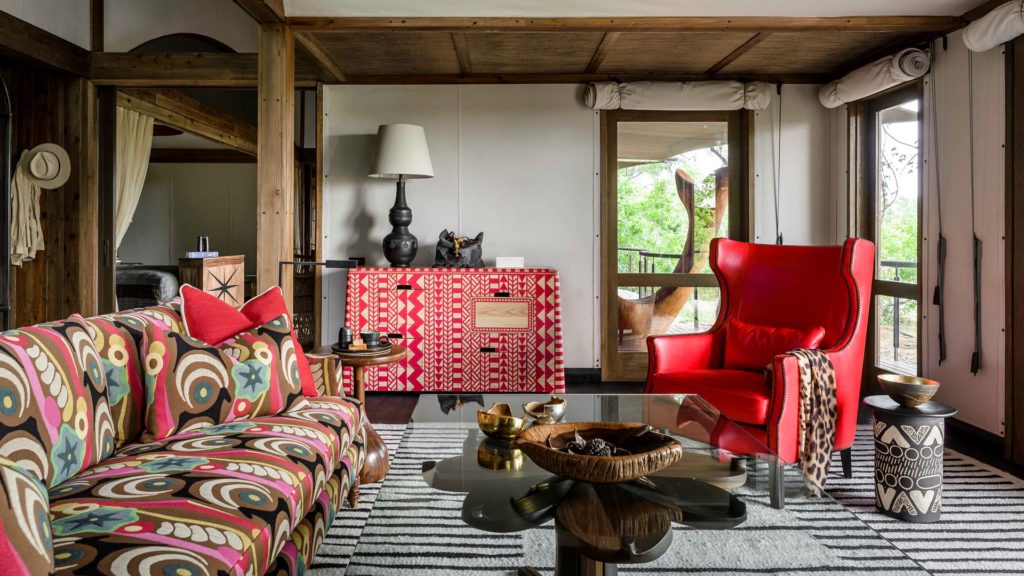 This classic lodge has got a super-funky twist. If you love colour and bold design, then the 'new' Xigera is for you. Xigera (pronounced 'Kee-jera') is named after the pied kingfisher – ironically, for such a colourful lodge, the pied is the least colourful of all kingfishers, being black and white… Lovers of art and design will be enthralled with the attention to detail and creative carte blanche that has been poured into the revamp.
OUR MEERKAT RATING 6 Fit for a king!
WHY GO?
An incredibly high level of design with original art, sculpture, objet and furniture by African artists and artisans at every turn.
The Baobab Treehouse rises 10 metres above the floodplain and has three levels, including an open-air bedroom at the very top. The structure has been painstakingly designed to mimic Botswana's iconic and beautiful baobabs.
A glass-fronted cellar stocked with wine from Xigera's 'sister vineyard' in the Cape Winelands, a dedicated yogi with sunrise and sunset sessions, and state-of-the-art Technogym equipment.
VICTORIA FALLS HOTEL – THE VICTORIA FALLS | ZIMBABWE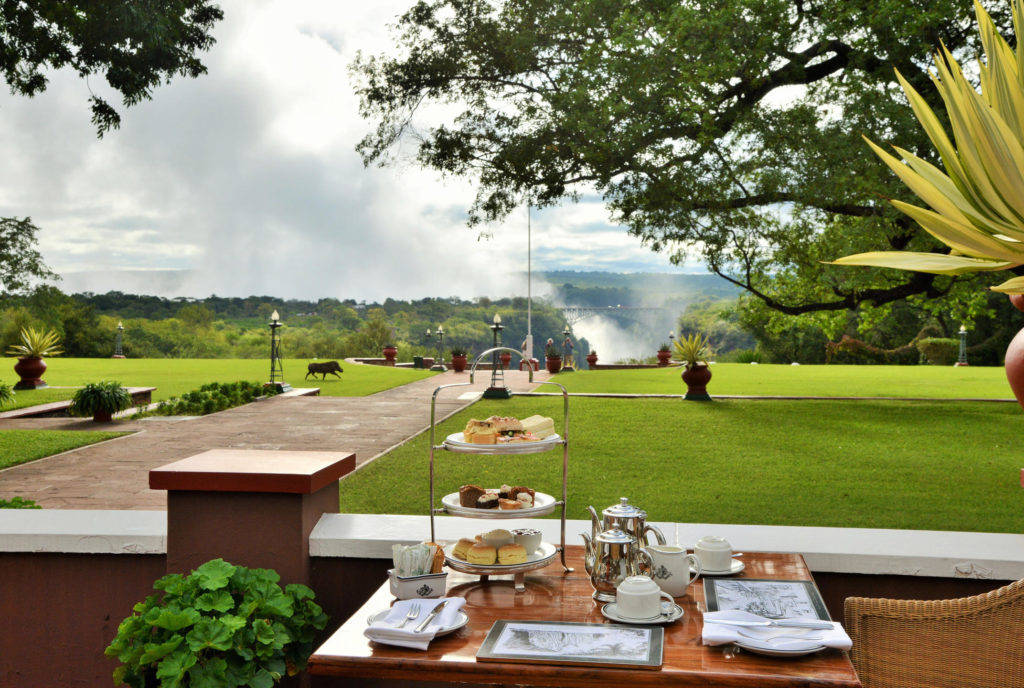 The good old 'grand dame' of Vic Falls has hosted plenty of grand dames in its storied past, like Queen Elizabeth II herself. The reason is obvious: gracious service, expansive grounds and one of the best views of the spray of the Falls, the historic railway bridge and Batoka Gorge without being at the actual waterfall. The hotel is now fit for 21st century royalty after a major overhaul that took more than a year to complete.
OUR MEERKAT RATING 5 Now we're talking…
WHY GO?
The most iconic accommodation at Vic Falls; over the years since it was built in 1904, virtually every celebrity and luminary passing through has stayed here.
Parents might be pleased about the babysitting service so you can enjoy fine dining while the children are entertained and looked after. This is also one of the few places in Zimbabwe with private tennis courts for those who want to work off the decadent afternoon teas or ample G&Ts.
A central location in Victoria Falls Town means you can walk independently to other attractions and you'll never get lost – everyone knows where the Victoria Falls Hotel is!
The safari situation in Botswana and Zimbabwe is normalising and high season (July to October) for 2021 and 2022 is filling up fast. We have tabs on all availability, Green Season rates, stay-pay special deals and loads of other offers, so chat to us about getting a proper change of scene and making the most of your upcoming holiday.
To see even more camps and browse them by whether you want to come on honeymoon, have a total splurge, count the pennies or experience something out of the ordinary, please click here. We've stayed at every single one of our favourite camps on this list so can give you the lowdown on everything from the types of vehicles to the terrain.