August 2022

Nadine, we want to thank you again for everything you did. Zambia has been a nice surprise, great experience, beyond our expectation!
Again you have been of great help to build our journey, it couldn't have been better!!
We have been to many safari so far but this year, here in Zambia, we have been very lucky and we have had the greatest spot – always beautiful wildlife and in six nights in South Luangwa we could see 8 leopards, group of 5 wild dogs with 4 playful puppies, pride of lions eating a buffalo, pride with cubs and pride eating a hippo.
We have had the most incredible experience in Lower Zambezi, another NP that was incredibly beautiful. But it was not only the wildlife, but also the scenery that in both parks we found very beautiful!
At Mfwue, Amy, was absolutely lovely and when we asked her to have at Chindeni the same guide she was very accommodating.
Faith, the lady at Potato Bush was also very caring and helpful and at Chindeni, the couple who manages it were lovely and caring.
We found the staff everywhere so friendly that it was as if we have known each other for a long time: cooperative, always smiling friendly but never intrusive. The idea of staying at Potato, inside the NP, proved to be very good because it saved us the crossing time that many camps in the Management area have to do twice a day to enter the park, which means that we had more time to spend inside the park and go to different and far areas –Anna & Francesco
For more in depth details on their safari visit our blog section
Our trip was absolutely amazing and we truly enjoyed every second of it. From the moment we landed in Victoria Falls everything was seamless and magical.
We really enjoyed getting to see Victoria Falls and "The Elephant Camp" was great as well. Meeting the elephants in their Sanctuary was probably Diana's favourite part of the trip and it was here that we discovered Amarula.
Chobe Game Lodge was also great. During our "ride" to the lodge we saw many many elephants (more than we could have imagined!) and spending time by the river watching the animals come and go was a lot of fun. The lodge itself was also really nice, the food was great, and we enjoyed getting to know our guide.
Our flight to Kanana was long, very bumpy, and was an adventure in itself, but it was well worth it! We both agreed that Kanana was our favourite stop. The combination of the staff, our guides, the other guests at the lodge, and the game we saw made for a really great time. It was here that we saw zebras for the first time, leopard and many lions, including some very cute cubs. We also did a drive out to the airstrip one night to get a beautiful view of the Milky Way – something else we cannot experience at home.
Shinde was magical as well. The camp itself was beautiful and our guide was great. We had a close encounter with a hippo during our Mokoro ride which reminded us of the power of nature.
We also saw amazing birds and the most beautiful sunrises and sunsets throughout the trip.
I could go on forever, but in short we loved the trip and wish we could do it over again.
Thank you so much Nadine for everything you did to help make our trip great. If we are lucky enough to have the opportunity to return to Botswana I will definitely reach out – Ben & Diana
I just wanted to say a very big thank you to Nadine for helping us to put such an amazing trip together in Botswana! From being welcomed in Maun by your friendly and helpful team, to a seamless transition into the Delta, and to be able to immerse ourselves in what must be one of the most incredible jewels of Africa, as well as for the book on Botswana too, such a thoughtful personal touch! We truly felt pampered from the start to the finish and the attention to detail through Safari Specialists was really next level! Thank you. Calum and I had such a memorable holiday and our SA family in Australia, having seen our photos, are keen to chat to you about putting a package for them together in 2024 – Phillip, Calum
July 2022
Hi Nadine, Dumela Ma! It was amazing! Your suggestions were all fantastic- as a first safari, starting at Vic Falls, then CGL and finally private concessions was a great idea- it was a gentle introduction. I even learnt a few phrases of Swetsana at Lebala – it maybe worth including a few phrases /greetings with the stuff that you send out!
Palm River was a lovely location and super rooms, nice modern bathrooms and friendly staff- we did the Vic Falls tour, heli flight, Boma, and a lunch at Vic Falls Hotel. Chobe Game Lodge was very enjoyable- high density of elephants who were used to the jeeps. Our guide  Oriah (from the western delta) was very knowledgeable and made a huge effort to get us to the male lions and then a pregnant lioness at close quarters (we were the only ones initially for the lioness). The Kwando camps were great. We definitely enjoyed Lebala more as it was more like a 'small community' with friendly staff under the management of Barcos who set the tone. Our guide, Mayezi,  was just amazing – I think he is a bit of a legend amongst the guides in the region. . So glad we stayed 3 nights there. Splash was more corporate- still very good, but more formal in its approach. Mr T, the guide was also very good. 3 nights there was enough. Game viewing at both camps was amazing – especially Lebala- we saw the big 'golden boys' pride with 4 lioness and 8 cubs feeding on a hippo. Yes, 28 lions in total on the trip, leopards on the night safari and the elusive resident cheetah at Splash. And lots of elephants, zebra, various antelope, hippo, giraffe, wild dogs, spotted hyenas and even the couple of elusive honey badgers.
Thank you again for your help and planning – Anita,John and Jake
Dear Kagiso, thanks again for the unforgettable experience you arranged for us in Botswana. Thanks also for having come to see us at the airport in Maun – we hugely appreciated it!  Of all parts of our wonderful journey, Makgadikgadi and Camp Kalahari were the most special ones, and we can only recommend them. Just a few notes after the trip since I'm someone who loves giving feedback. 🙂
One of our flights for Major Blue was operated by Mack Air (Safari Specialists – this is not uncommon, air charter companies worth together to optimize scheduling and efficiency).
On our last morning at Bakwena they suggested we could have a slower start in the morning and then head to the airport. But we said we could do a very slightly shorter morning safari and be taken straight to the airport, hey agreed promptly. The drive to the park was about 20-30 minutes, longer than from Kasane town.
Setari Camp is the only one of the three that I wouldn't unreservedly recommend to others, although the camp itself is quite amazing, the way it's been built on 5+ kilometres of elevated walkways and our tent was lovely. I found that the food was not so exciting, but the staff made the dinner so special with their singing by the campfire.  The boat transfer route was repetitive to get to our walking safari or our mokoro and there was a staff shortage, so we were sharing activities with other guests (that's also more ecological anyway!), but the others' schedules slightly impacted ours.
I have already given the reference of Safari Specialists and your email address to two colleagues of mine, and more might follow –  Anna-Kaisa
Pictures speak a thousand words and this priceless video even more!! Thank you to our guests from Spain for sharing their experiences on this video, taken on their individually tailored safari created by Nadine. Chitabe Lediba welcomed the family in incredible game viewing area of Chitabe before heading to Kanana Camp to enjoy the "picture perfect" delta scenery. and then up north to Chobe Game Lodge, the only permanent lodge inside the Chobe National Park on the Chobe River, before endjing at the iconic Grand Old Lady of the falls – Victoria Falls Hotel – Miguel Angel, Maria Itziar and Itziar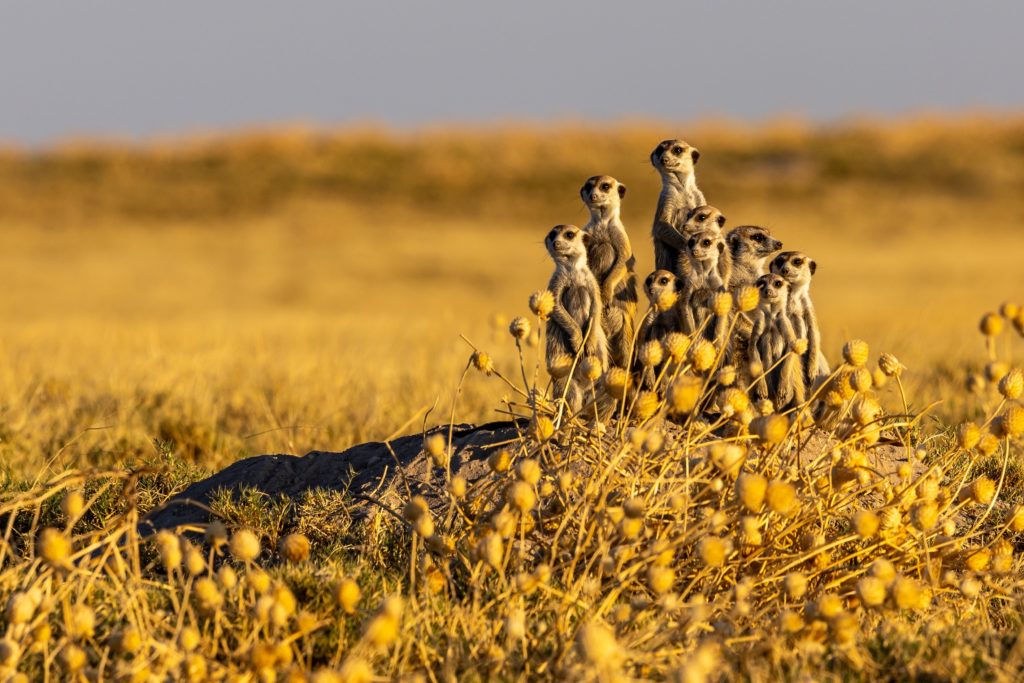 Erica, we loved Chobe Savanna in Namibia. Great food, beautiful place, lots of time seeing game and birds from their boats. We saw three lions eating a kill (Cape buffalo) on the banks of the Chobe Rooms and common areas were luxurious and comfortable. One guest was celebrating his 84th birthday!  They went all out making him an incredible Black Forest cake, and serving lunch on the boat while watching the elephants. He was so excited like a little kid and had the best birthday ever.
Camp Hwange was a wildcard but turned into a great adventure. Food was good, and serve yourself style which was good to minimize wasted food as some camps really fill the plate. This was the coldest camp, and hot water and wifi were very limited. I wasn't quite sure about the walking safaris but they ended up being a good experience. We saw plenty of lions and big game, but also had some good sightings of smaller animals like a genet, serval, African wild cat, porcupines, puff adder, cobra(!), and tons of birds. They all hid out somewhere the first day then came out by the dozen. We saw a wide variety of birds including some spectacular ones like the grey crowned African crane.
Shinde was also very good, luxurious with good food. The boat ride had limited birds but lots of hippos and a great look at a fish eagle. The game drives were "wet" as there had been some (unseasonal) rainfall and the paths were waterlogged in places. We actually had to stop twice to pull another vehicle out of the mud!  We saw a good amount of game and birds. There were no lion sightings, but we weren't concerned since we saw a lot in Hwange. There was a brief leopard sighting, a few elephants, and tons of grazers (tssebes, red lechwes, water bucks, kudus, impalas, zebras, and wildebeest.
Selinda didn't disappoint!  We saw more game here than anywhere else, including multiple lions, a leopard and cub eating an Impala, tons of elephants, a large herd of zebras, a dozen giraffes, hippos, assorted grazers and some birds. WOW. Definitely have the best pics from Selinda plus a couple of extra kilos from the incredible food. .
Camp Kalahari ended up on the last day being a very (unexpectedly) good game experience. On the way to the meerkats we spotted two female lions with a fresh kill (zebra). It was spectacular. On the way back a cheetah was spotted and we were able to track him for a little while with a spotlight. He was my first, and I really didn't expect to see one especially at this remote, dry location. As for the meerkats they were on alert as a jackal was in the area which might have contributed to their lack of interest in us humans. I still got my pic of a meerkat on my hat!    Food was good here, but the guide seemed a bit disorganized. Apparently he's relatively new, and actually one of the local Bushman tribe that went to school to be a guide. I would have preferred fewer "surprises" like the sleep out and dinner under the stars which would have been appreciated more and taken up by more guests had they given us time to prepare. While I enjoyed the visit with the Bushman tribe we all felt it was a bit staged with them wearing animal skins and sandals despite the cold. We felt like they probably were wearing less traditional clothing on their off time. The staff was wonderful and food was great but……
Thanks again for a great trip! – Pam and Joe
June 2022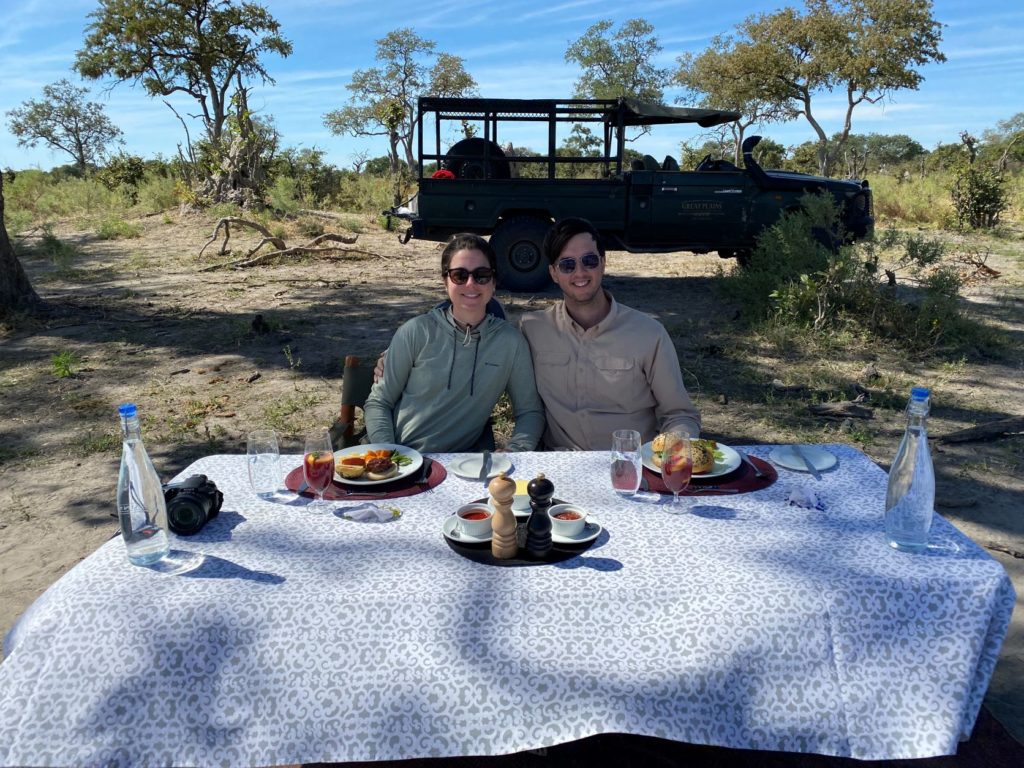 We're still reminiscing about the amazing time we had in Africa. We've taken a lot of incredible trips together, but this was definitely the best yet! Here are some thoughts on the trip.
Thank you Nadine and Bronwyn for saving the say with the Kulula Air issue – I know I'd booked that flight and it was technically on me to fix, but we were really at a loss and you swooped in before we had time to even worry and saved an amazing first day!
We loved the Victoria Falls Hotel. The complimentary massages they gave us were an especially nice touch, and we enjoyed high tea both days, as well as an incredible dinner in the Livingstone Room (we even hit the dance floor when the pianist played the first dance song from our wedding. The microlight was 100% worth doing, so neat to get that close to the Falls, and the transfers/border crossing (with the Kaza visa) were very smooth/quick
Chobe game lodge was a great intro to safari, just like you said it would be. We especially liked the boat cruises, and LOVED our upgraded room. My one piece of feedback there would be that at times, often there was confusion around who was supposed to go with which guide, which left us asking people repeatedly which vehicle to get in.  Selinda Explorers was our favorite part of the entire trip – we truly can't say enough good things about them, from the staff to the animal sightings to all the lengths they went to to make us feel special. Four particular callouts. (1) We ended up with a private guide for our entire time there (Stidch), who was excellent. We also loved the freedom of having our own guide and if we take a trip like this again, I think we'd pay for our own guide everywhere because it made such a difference. (2) During the full day, they said we were returning to camp for lunch, and instead brought us to a watering hole with a full lunch and bar set up – it was the most magical surprise. They even brought the ingredients for Tristan's favorite cocktail! I've never experienced anything like it anywhere in the world, and we were truly blown away. (3) The animal sightings were incredible. We got so close to lions, elephants, hippos, etc, and there was never a bad game drive. It truly felt like animals were around every corner and we were so spoiled. (4) The vehicle and comfort were by far the best here. Windproof insulated ponchos (instead of just blankets), to go coffee cups in the morning, and reusable water bottles with ice cold water refilled midday were all much appreciated. Shinde was a great way to finish our time in Botswana. It's a beautiful camp, but much larger and the game sightings were not  as good as Selinda, so we were initially a little hesitant about it just because we'd had such an incredible time at Selinda. However, we loved the facility itself (we ended up staying in at the pool one afternoon), and the walking safaris and mokoro rides were especially unique and educational, which we ended up really enjoying.
Namibia was great! ATI was especially helpful, giving us a cooler and a phone in our briefing and when we ran into an issue an called for assistance, within the hour, someone walked us through our options, booked us a guide, and suggested what ended up being an incredible helicopter flight to round out our trip.  Dead Valley Lodge was definitely the best place to stay – we were the first ones up Dune 45 for sunrise on the day we went. The one thing that surprised me was laundry – they don't include it, but we ended up paying one of the housekeepers to do ours on the side. We did hot air ballooning and a scenic helicopter flight while in Sesriem, and both of these were great. I especially liked hot air ballooning, truly an incredible way to see the dunes, and followed by an amazing champagne breakfast in the desert upon landing.  Tok Tokkie was a lot of fun. The landscape was absolutely beautiful, and we learned a ton from our guide. The food was also incredible, and sleeping under the stars was surprisingly comfortable – one of my biggest highlights of the trip for sure. We didn't realize how much of  an educational component it would have which was a really cool way to learn about and practice sustainable tourism. Swakopmund, we loved the Strand Hotel, and we decided to go quad biking there and then relax and shop a bit in the afternoon. – Julie and Tristan
Nadine, we had a fantastic time on the safari and we will definitely do it again in a few years.  While there are some things we would do differently, we loved our time in Botswana and each had our personal favorite camps, experiences, etc.  My daughter had a wonderful time and enjoyed everything from Chobe through the horseback riding surprise at the end.  We ultimately saw everything we wanted to see (wild dogs, leopard, cheetah, baby elephants, etc.) and the camps provided a nice variety of experiences and locations.
My personal favorite camp was Pom Pom, my wife's was Chobe and my daughter's was Splash – all for very different reasons.  For me, Pom Pom's location in the 'true' Delta was ideal.  Game drives started immediately upon leaving the camp (or in the camp in many cases as a wild dog ran through camp during lunch) and I really like its authenticity. Combined with an absolutely amazing camp manager, it made for a wonderful experience for me.  My wife (who is an architect by education) loved Chobe Game Lodge – it's style, design and overall layout of the lodge although Splash was a close second.  We all loved the posh game drive vehicles at Chobe – I've never ridden in anything as comfortable or well designed as their game drive vehicles.  Splash was my daughter's favorite as the guides there were absolutely fantastic and treated her like a princess; she routinely rode alongside the driver in the front seat and even spent some time in the tracker's seat on one drive.  Splash was a close second for me as well although it was noticeably busier than the other camps.
The only challenge we encountered was at Lebala. The Lebala airstrip was closed so we had to fly into the Lagoon airstrip, which was a 3-4 drive from Lebala.  Although the guides did make the best of it and turned it into a game drive, it created some challenges for our itinerary as we lost a fair bit of the arrival and departure days.  On the flipside, it meant  there were never more than 7 guests at Lebala – so it felt like a truly private safari experience.  It was also incredibly cold the last night in Lebala and as the most 'open' of the camps (sheer walls on all sides).  Regardless, the guides there were fabulous as was the camp hospitality, we spent a lovely private morning with a large family of lion cubs, and it was fun to return to a familiar spot. We also enjoyed watching a tree snake meander its way through the dining area and into a nearby tree and watching lions march across the front of camp during morning coffee
The variety of activities was definitely a plus.  The boat rides at Chobe made for a nice alternative to the game drives, the staff at Pom Pom were kind enough to allow my daughter onto a mokoro ride there, which we all loved, and the boat ride into Moremi from Splash offered a nice close to the safari.  While I'm not sure I could name my favorite sighting, our most memorable was undoubtedly watching a pack of wild dogs at Splash chase a young female kudu into one of the pans.  After an intense struggle, the dogs finally overcame their fear of the water and drowned the kudu.  However, the water was too deep for them to get it out and before they could figure out the solution, a large male lion arrived, chased off the wild dogs and attempted to claim the kill for his own. However, it took him three tries to get the kudu as he also panicked in the deep water and went running out of the pan like a cat who fell in a pool.  On the third attempt, he finally mustered his courage and dragged the kudu out of the pan over to the trees for his meal.  It made for a very dramatic hour or so and will definitely never be forgotten.
While the trip was wonderful, there are definitely things I would do differently next time.  The biggest item is that we all noted switching camps after 2 nights was simply not enough time in an individual camp, so the next trip, we will definitely spend a minimum of 3 nights in any camp we visit.  I cannot thank you and your team enough for all of your assistance during the planning process and your incredible support through all of the twists and turns with COVID, testing requirements, etc.  You were absolutely wonderful and patient, and I sincerely appreciate your attention to detail.  We had an absolutely fantastic and memorable trip, and I will recommend Safari Specialists without hesitation.  In fact, I've already referred you to a few of my friends who are considering safaris for their families.  – Chris, Elizabeth and Hope
We used Bronwyn at Safari Specialists to help us put together a trip to the Okavango Delta, Chobe, and the Makgadikgadi salt pans. After finding out what type of experience we were hoping for, Bronwyn put together a number of options and helped us decide which ones to choose. Everything went smooth as possible, with transfer and accommodations. We couldn't have been happier with the trip she planned for us! I especially liked that Safari Specialists is a Botswana based business, which is intimately familiar with the camps and landscape of the country.  – Leslie and Ed
Nadine, it matched perfectly and it was well thought out.
Mra Dinare to start, Bushman Plains for wild dogs hunting, Splash with wild dog puppies and lion cubs. Splash or Bushman are good locations to start helicopter flights.
It was better to have Bushman Plains with its basic standing in the middle of the combination and Splash at the end.
In general, the guides seem to be very well trained, both in the knowledge of fauna, its behaviour, and flora of the delta and the interaction with the clients :-). Their manners were smooth and refined in Dinare and Splash, less the case at Bushman Plains camp. This can also have its charm, either you love it or dislike it. Some people like it and want to have something more "authentic". We were ok with it.
In all camps the staff was very friendly, smiling and caring for us. All the guides did everything in their power to give us the best observations and positions to photograph the animals.
The guide who stands out is the one (and the tracker) we had at Splash. Experienced, friendly, a real pro. This concession seems to us to stand out in its management of the wildlife and the commitment of the guides. There are only 2 camps in the concession, if I am not wrong, and the rule was that a maximum of 2 cars are allowed to stay near sensitive species, such as the baby lions or the wild dogs' den.
Mra Dinare: big group of giraffes, elephants, hippos and the martial eagle killing a duck. I will always remember the noise caused by its high-speed flight over our car before swooping down on its prey.
Bushman Plains: definitely the wild dogs hunting is the highlight. Good view way ahead of what was happening and besides they were quite successful. Also a leopard. The scenic we were driving though is also great (plains, grass swamp, pools, channels, trees).
Splash: wild dog puppies out of the den (1 month old), lionesses and lion cubs (3 months old), the male cheetah. The food was good everywhere.
At Mma Dinare the view from the main area overlooking the channel is a highlight.
At Bushman plains the comfort and dinner is basic and the general feeling more roots alike. I will remember the hyenas growling right at the door of my tent this one night…
The season offered us good opportunities for photography, it could have been better if the camera did not fall down… but that's life – Anne-Laure and Eric
May 2022
Hey Nadine!! Thank you SOOOO much for organizing our trip! We had a fantastic time! From seeing hippos and elephants up close and personal to watching wild dogs right after a kill and watching a very rare moment of a leopard mating – there was tons to see! We also loved the champagne welcome at many of the camps and were most especially touched at the private dinner at Lebala 🙂 We have such great memories and cannot wait to come back to Africa!
Thank you thank you! These memories Stefan captured will keep us happy for much time to come! 🙂 ❤️❤️❤️❤️❤️❤️  Stefan & Desiree
Oh what a wonderful adventure we had in Botswana!  Thank you again Nadine for your expert planning as it was perfection!
Pom Pom Camp was a nice start with slightly more rustic accommodations until we reached the more luxurious Kwara camp.  We saw four leopards on the first day which was phenomenal.  There were 3 week old lion cubs and a rhino too.  We adored our guide Ryder and our tracker, Skills. I learn so much with each new guide and tracker. I was able to learn a few Setswana phrases with help from staff at every camp.  Lebala Camp was extraordinary.  The staff was particularly lovely and will always hold a special place in our memories.  Busker and Kay run a wonderful camp and made us feel very much at home.  I got to reunite with Oona who worked at Splash last year and I recognized her beautiful face right away.  The Golden Boys were a sight to behold and listening to the competing calls between them and the Namibian lions were breathtaking.   Kwara Camp certainly felt like a home away from home as we had more time to settle in. I had the pleasure of meeting another Safari Specialist guest in camp and I may have met my kindred spirit! I love the full sensory experience of the bush in Botswana and relished smelling the wild sage, hearing the birds and night sounds and the sunset colors that just don't translate in photos.
I am so happy that our flight was delayed because we got to experience The Duck.  It gave us more of a local feel and it was a hopping spot. I could certainly see myself spending more time there.  Thanks to TT and Bronwyn for meeting us at the airport.   – Amanda 
April 2022
My parents had never been to Africa and we wanted them to have the trip of a lifetime exploring parts of this wonderful continent. We chose Botswana for its diversity in ecosystems and its exclusivity in the sense that one will not experience 20 vehicles at the same animal sighting. We usually book with local agents, but here we first got in touch with an agent in South Africa that we had previously worked with. But this was years ago and their quote was beyond what we had imagined for our planned itinerary. This killed our loyalty to them and it was the best thing that could have happened. Somehow our search for a local agent brought us to Safari Specialist's website and that was already the end of the story. No looking further around and comparing different agents. Everything about them felt just right and their quote for our planned itinerary was not only very reasonable, it was actually less than what we feared it would be (based on the posted lodge prices anyone can look up). While we had already handpicked the lodges we wanted to stay at, Joanne suggested that we change the order and she sure was right. Due to the development of the pandemic, we didn't book right away as everything was still in chaos and the lodges hadn't adapted their cancellation policies yet. But in February 2021 we felt confident enough to book for spring 2022 and we got in touch again, this time working with Kagiso who did a great job quickly securing our booking and then spending a lot of time replying to our concerns regarding covid regulations. For a while, we regretted having combined Botswana with brief visits to Zimbabwe and Zambia due to all the testing requirements, but we were very lucky in that just a week before we travelled those countries lifted the testing requirements for vaccinated travelers. One of our tests (the one where a nurse would have flown to camp) had been pre-paid and all it took was one e-mail to "convert" it to a helicopter ride in Victoria Falls. We had the best of trips with all transfers working out flawlessly. My parents kept saying "it can't get any better than that", but somehow it always did. What we thought might have been the trip of a lifetime might have been the start of a new addiction. We only have the highest of praises for Safari Specialists and they have become our new go-to-agent for Southern Africa. – Regina, John, Mary and John
March 2022
Nadine, everything on the trip worked perfectly. Only letdown was the weather during the first days, especially at Chobe Water Villas I only had 1 afternoon with good light. elefants did not want to come for a swim either. Accommodation was very nice, so was the food and the guiding. Lagoon Camp was very good as usual. First time for me was the boat ride / sundowner cruise. Very nice experience! And a change from the bumpy game drives. Nothing beats cruising slowly along the river with a Gin Tonic in your hands. We saw 4 Leopards in one day, more than I saw during all my previous safaris put together.  At Nxai Pan, I wanted to see the migration, we did do a trip to Makgadikgadi NP, but unfortunately did not see the big herd. On the way back, we visited Baines Baobabs, very nice! Next day we had plenty of zebra and springbok at Nxai Pan, so the pictures came out nicely and it is a very diverse environment. Definitely something to mix in for a comprehensive safari experience. The roads were very bad due to the rain and no off road driving is something to keep in mind. Highlight was Splash. The lodge itself is very nice! We managed to see wild dogs 4 times and the lion sightings were fantastic as well. The 2 dheetah we saw several times as well. Good that the PCR testing was waived just in time. The lion sighting during my last morning drive was fantastic. The boat ride one afternoon was nice but not as good as at Lagoon. Not enough time so we had to hurry to get back, an extra hour would have been nice.  The decision by Kwando not to have Internet in their camps is ok for me, do not know about people that need to be in touch with their work. Digital detox, so to speak.  Thanks again for the super service and the extra work due to Covid! Hope business goes back to normal for you now! – Peter
Kagiso, we would both like to compliment and thank you again for a wonderful experience. All arrangements, transfers and details were perfectly organized and took place flawlessly. We have already passed your name on to other friends contemplating a similar trip. With respect to our experience at Victoria Falls, we would first like to comment on the road transfer from Tlouwana Camp: both on the Botswana and Zimbabwe sides, the companies and drivers that ferried us were outstanding and extremely helpful at the border crossings. Much appreciated!   As you know, we had stayed at the Safari Lodge once before, and were very happy to return there.  After the rather long game days in the Delta, we divided the Vic Falls time between activities in the mornings and relaxing in the afternoons. We spent some time at the Ilana, having drinks there, and in retrospect preferred our choice.  We would also like to express gratitude to you and the Lagoon and Splash camps for each making a truly special meal and presentation for us.  We had forgotten that the "occasion" was a milestone anniversary and they both excelled themselves. A most memorable evening spent at each. Also thanks to Tlouwana Camp which had a bottle of champagne for us in our tent, but which we did not open as I could not consume the whole bottle on my own.
One last comment: most of the other visitors we met in the Delta were all many-time return travelers to the area, while it was only our first.  We will hope to be like them in the future, and return soon! – Sam and Eve
Thanks Erica for your help, your team was great. It turns out that we were very lucky with the timing and had no problem at all with the rain and quite enjoyed the skill of the guides in navigating the flood plains. We were also extremely lucky in the timing as neither the camps nor the lodge were fully occupied so we had lovely rides, met interesting people and felt safe from Covid. For us, Khwai Leadwood stands out head and shoulders above the other camps and we have nothing but praise for it. Excellent guides/drivers hosts, food, everything. Shinde was similar but somehow behind Leadwood. Chobe Game Lodge was a mixed bag. The room was very good, the property outstanding with huge potential well exploited. The staff excellent except for the Angels. Our angel, perhaps an exception, was weak and not as experienced or enthusiastic as the others and we felt some corners were cut with respect to food and drinks. The river cruises were excellent however and we enjoyed them thoroughly. Overall we didn't see a lot of birds as we had hoped for. We saw enough of the usual animals to keep us quite happy. We didn't see cheetah or leopard, wild dog action and some other things but this certainly did not spoil things for us, we have seen them before and really love the bush for itself as much as for the wildlife.  Overall we were very happy with the trip and hope to do it again – Hanan and Tessa
Hello Nadine, today, I woke up in my own bed, a weird feeling after this long adventure that we have been on. We would like to thank you from the bottom of our hearts for all that you've done for us. This trip has been amazing from start to finish, everything went so smoothly and the safari experiences have left us speechless. We loved the warm hospitality at the camps, and the guides and trackers we had were all amazing and we shared so many laughs with them. And the animals..! It seems we left the bad luck at home because we got to experience so much!   You have helped us so much with everything, so much work since the beginning, and you made us feel secure with travelling during covid times. Ola was on the verge of not going even the morning we left because of all the bad signs, but we managed to convince him. Soon he was smiling from ear to ear..! We can't thank you enough! And the gifts we got from you that TT gave us, such a nice surprise. We just wished we had something for you.. We want more people to go to Botswana, especially Scandinavians. Apparently, we are quite a rare species down there… We recorded a short greeting to you to show our appreciation – our thank you message – Marie, Bjoern, Malin, Nils, Ola, Annika
If you want to leave the troubles of the world behind, go to Botswana. If you want to organise it with ease go to Safari Specialists. Friends and family were somewhat shocked I was going to Botswana but I tried to explain to them that it was easy with Safari Specialists as they had taken any worry out of it!! Nadine and TT organised my Botswana trip with only a few weeks notice. They were very thorough and replied to my emails very promptly. It was just great that TT was there to meet me in Maun in both directions. On the way out he had the all important negative PCR test in his hand for me. Nadine arranged with my last camp to have the PCR test done at the camp airstrip. This was an expensive option but worry free and it allowed me to stay at camp in what was only a seven night trip to Botswana all up rather than waste a night in Maun and get it done there. I would definitely recommend this company – you can't beat local knowledge and it made me much more confident compared to adding another layer by using a foreign travel agent. A charming touch at the end, TT presented me with a photobook handmade in Maun from recycled paper. I will definitely use it to treasure the memories of my trip to stunning Botswana – Caroline
February 2022
Nadine, I had a lovely time overall, and an absolutely magical one in the Delta, and got a ton of great stuff to write about, and I am more than satisfied with my dream safari. Thank you again for all your help in getting it organized for me. I'm already planning where I'll go the next time I come to Africa. I really want to do South Africa all by itself; there's so many different places to see just in that one country, and I want to do almost all of them. You can certainly expect to be asked to plan that one for me! I wouldn't turn to anyone else for southern Africa after how brilliantly this trip went. To read more about my trip, go to my blog www.goingsideways.blog  – Naomi
January 
We are so happy of our honeymoon trip that we finally made in December 2021- January 2022. Lisa has been so flexible, kind and helpful all the way. We had to change the trip 3 times due to Covid (even once just a day before the actual trip) and Lisa has always been perfect in modifying the whole trip for us and postponing it. She has advised us on great safaris, lodges and activities in Botswana and Zimbabwe. She is always available for information even during the trip. Before the trip, she takes a lot of time to discuss your needs in details and find the best options for you. Go for it, you won't regret it!
We loved Namibia Erica!!! It was such a great experience. We had an awesome time and definitely made lots of friends extremely jealous with our pictures 🙂  The drive was fun and easy – just had a couple of hiccups when we went to Fish River Canyon – the road the lodge recommended we take was flooded, so we had to backtrack – wasted about 2-3 hrs – then even that second outlet was flooded. We called the Safari folks and they recommended a 3rd option that ultimately worked. I would say 99% of our experience was amazing! I wrote some detailed feedback while we were travelling and had a few niggles, if I were to write it now, I would have forgotten all these little things and have nothing but amazing & fond memories. Hoodia was a lovely place but we had a bad experience with the guide, Onduli was wonderful, we did learn however that we should have called in advance to let them know the exact time we were coming; Etosha Oberland, whilst a lovely lodge, our stay was a bit disappointing and I wish we had stayed in the park itself;  I think our favorite lodge was the Onguma Tented Camp – there was something magical about that place: seeing the animals drinking from the waterhole right outside our camp, or sitting by the fireplace after a long drive in Etosha, or the friendly staff! it was perfect.  As far as the winner for the friendliest person on our trip, it was definitely Colin (the manager at the Galton house in Windhoek)! He was super fun, very helpful and a great guy! – Maya and Mike