The Safari Specialists team would like to share some of our 2015 highlights from the bush and what we are dreaming of for 2016. The wonderful thing about safaris is that there is always something new to experience and learn  – which is why we LOVE our work!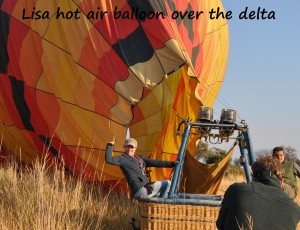 BEST NEW EXPERIENCE IN 2015
Lisa: I was on the first guest hot air balloon ride over the Okavango from Kana Kara – it was breath-taking!
Erica:  I flew in a helicopter over Victoria Falls AND the Okavango Delta – what an amazing perspective it gives
Nadine: Quad biking on the Makgadikgadi Pans out of San Camp – it was amazing to experience the vast "nothingness" of this area
Joanne: Visiting South Luangwa for the first time! The park is fantastic with excellent wildlife game viewing opportunities
Gaba: I did the canopy tour/zip line in Victoria Falls. It was fantastic fun with the best views of the mighty Zambezi River while you are hanging!!
Kagiso: I was fortunate to do the elephant interaction activity at Stanley's  Camp, it will always have a special place in my heart as it was my first close encounter with elephants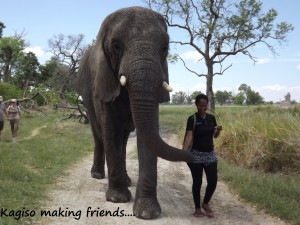 FAVOURITE WILDLIFE SIGHTING IN 2015
Erica:  I was awestruck by the massive number of elephant in the Hwange area, from Ivory Lodge's busy waterhole through to Ngamo Plains, the elephant parade never stopped
Joanne:  Witnessing a coalition of 3 male lions drinking then resting after killing a baby hippo on the banks of the South Luangwa
Lisa:  Watching the elephants at Bomani Camp's Stoffies Hide in Hwange National Park. We were so close we could have reached out and touched them
Nadine:  Coming across a massive elephant on a guided walk from Linyanti Bush Camp – no game sighting is same when you're on foot ….
Gaba: In Savuti on a camping trip with Bush Ways, I saw about 10 female and male lions stalking a huge herd of buffalo. They were unsuccessful and then tried for a baby elephant and that attempt also failed, it was heartstopping
Kagiso: I saw a genet just outside Maun and for once it did not bolt, so I really got to see it up close – not far from home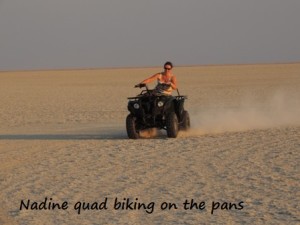 FAVOURITE CAMP VISITED IN 2015
Erica: I had a family trip to Machaba Camp in Khwai. They are so flexible with kids and the area always has such fantastic game viewing
Joanne: Potato Bush Camp in the Lower Zambezi. The whole experience from start to finish was incredible, the guiding was excellent, wonderful activities and meals and special dining experiences were extraordinary
Lisa:  My stay at Jao Camp in the Okavango – all round stunning, fulfilling my every desire
Nadine: Tau Pan in the Kalahari where I really enjoyed the bushmen experience
Gaba: Staying at Baines Camp,  the most romantic camp ever! We had an outside bubble bath under the stars, and then rolled the beds out to sleep outside on the deck and listen to birds and animals calling at night
Kagiso: It has to be my visit to Kwara, where their mornings start with a bowl of warm porridge and tea around a huge fire and then are filled with some of the best game viewing I have seen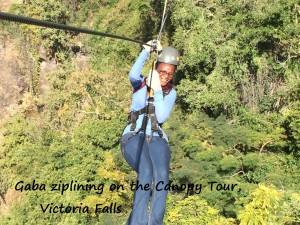 WEIRDEST OR WILDEST BUSH EXPERIENCE IN 2015
Erica: Camping on an island in the Okavango Delta when the wild dog chased impala through our campsite, the impala literally leapt over our table right in front of us!
Joanne: Canoeing on the Lower Zambezi and getting up close and personal with hippos!
Lisa: A bush walk at Kariba, the guide entertained us with so much interesting information as we walked and then canoed on the Lower Zambezi. So close to hippos!!
Nadine: Poling mokoro on the Okavango Delta – nothing is as easy as it seems
Gaba: Watching the resident male lion in Khwai eating the other male lion, an intruder, after killing him during the fight the night before – devastating!
Kagiso: Seeing a guide pick up a dangerous snake, swing and throw it into a nearby bush to save it from being killed by frightened staff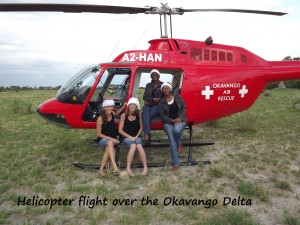 WISHLIST FOR 2016
Erica: I would really really really like to go to the new Mombo Camp when it is completed!
Joanne: I can't wait to visit Hwange National Park and experience some of their famed game walks.
Lisa: Zarafa baby!!
Nadine: I'd love to see Kana Kara and have the birds eye perspective from a hot air balloon….
Gaba: To visit Tau Pan when the time is right when it is all green from the summer rains
Kagiso: To go back to Oddball's Camp –  to see how it has changed from 18 years ago when first I visited