It's early morning and still dark but I can hear the occasional chirping in the bushes next to my tent – other than that, it is silent and I soak it all in. No alarm clock (at least not a commercial one), no making breakfast for the family – all I have to do is get ready (mentally and physically) for yet another exciting and adventurous day out in the remote wilderness, surrounded by wildlife and amazing landscapes.
The early morning is one of my favourite parts of the day (in real life but also out on safari): listening to the sounds of the bush as everything starts to awaken is incredible to experience.
So, after getting out of my super-comfortable bed and putting on my safari gear, the guide escorts me to the main area where we all meet around the campfire with our coffees and some biscuits, ready to get on the game-drive vehicle in search of wildlife and appreciative of what the day may hold for us.
Everyone is eager to head out and we each have our own expectation of what we are hoping to see and how to get that 'perfect' photo.
But here's the thing: are we all considering others, too, or are we perhaps lost in our own expectations and forget about our fellow guests and even the guide?
Here are some points that may help you to enjoy your game drive even more:
Respect
This is an important one. Always respect your professional guide – they know how close to go to a wild animal as they can read warning signs and can see how comfortable it is. Don't badger your guide to get closer for a better Instagram shot – it's still a dangerous animal. It's also very important is to respect your fellow travellers' sensitivity. You might be eager to get closer to a huge herd of elephants but your neighbour might be very nervous – respect will go a very long way out in the bush.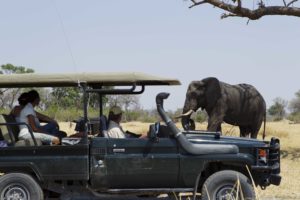 Cyber consideration
Some lodges in Botswana offer Internet connections: please respect the fact that other guests might be out in the wild to be off the grid and in the safari moment. Please do not make loud telephone calls, discuss emails or other problems that you just have found out about. Rather go to a quiet corner so others can still enjoy the peaceful bush setting. If you can pick up a cellular signal on a game drive, please don't spend the time watching videos or chatting as this is very distracting to others. And never geo-tag the locations of animals as poachers use this information gleaned from social media to find elephants, rhino, lions, leopard, pangolin and even vultures.
The view
Following a long tracking game in the hopes of finding leopard cubs, our guide proved he had eagle eyes and found three babies for us. They were absolutely adorable and so cute. Each of us on the vehicle managed to have a good view by leaning forwards or backwards to ensure that everyone could see. Remember that the guide cannot always change the position of the vehicle. Be polite and give your fellow guest an honest chance to enjoy these amazing sights.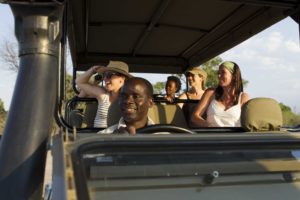 Communicate… but quietly
Like out in the real world, communication is key so talk to your guide and fellow travellers. The more you communicate – asking if every can see or for the guide to move the vehicle – the better your understanding will be and ultimately the more fun you will have. But please do so quietly so you don't frighten off skittish animals.
Seating arrangements
Safari vehicles have different seating arrangements and, depending on maximum number of guests on a vehicle, the last row and the middle seat in a row may have to be occupied. In other words, not everyone is guaranteed a window seat or one upfront near the guide. Your guide will usually suggest rotating seats with your fellow travellers – be polite and give others a chance to sit on the side or upfront, too. Some lodges allow guests to sit in the passenger seat next to the guide. This is the least bumpy seat in the vehicle so allows others a turn, too, especially the elderly or on a very long transfer.
The last row in a game-drive vehicle offers you the highest vantage point, which can be amazing for photography and seeing over long grass but is also the bumpiest seat by far. Remember that aren't any tarred roads out in wilderness areas so it's rutted dirt tracks – and often deep sand – all the way. Once again, offer to swap seats with other guests sitting in the back.
If you'd like to experience the freedom of staying at a particular sight for possibly a couple of hours or just simply would like to have the entire vehicle for yourself, speak to us about booking a private vehicle for your next safari. This is particularly recommended if a group of you are travelling together or if you have children with you.
Don't break the outline
Your guide will mention this but it bears repeating: animals see the vehicle as another type of animal and are used to its shape and smell (of diesel). They are even used to its sounds of an idling engine or quiet chatting. What they are not used is the 'animal' suddenly changing shape. If you lean out too far, stand up, try to sit on the roof and so on, the wildlife perceives the vehicle to be behaving in a new and frightening way, so they run off.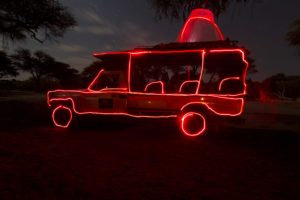 Lastly…
It's considered very bad manners to do the following (all of which we've personally seen!):
Go topless if you're a man or wear a bikini top if you're a woman (yes, we know it's hot but appropriate dress is non-negotiable)
Bring your own snacks to nibble on the vehicle (firstly, it's rude not to share with others; secondly, the guide has refreshments planned already; and thirdly, their smell might be strange to animals. If you need to eat for medical reasons, clear it with your guide first).
Never, ever smoke or vape. Not only if this inconsiderate but the danger of a fire is very high in peak season when you are surrounded by thousands of hectares of tinder-dry grass.
Play animal or bird sounds on your phone. This is an absolute no-no because you're interfering with nature.
If it sounds like there are a whole lot of 'don'ts' then we promise that there are actually a whole lot of 'do's'! DO have fun, DO take photos and video, DO ask your guide questions and, mostly, DO appreciate what an incredible experience and rare privilege it is to be out on a game drive in some of the world's most beautiful landscapes.