There's a perception that Botswana is 'expensive' and that only wealthy safari lovers can afford to come to our amazing country, but that couldn't be further than the truth. Yes, there are super-luxurious lodges that clock in at thousands of dollars a night but those really are the exception rather than the rule. Because we're based in Botswana, travel regularly, count lodge operators as our friends and know how to stretch a budget to splurge where necessary and save where possible, we can create Botswana safaris for virtually every budget. This is why we've quietly built a travel community who trust us to create a fantastic experience that delivers value for money.
Read on to find accommodation options in every budget band, from 'I need just the basics' to 'I want to holiday in totally luxury'.
What a Botswana safari costs by area and budget
All of the following prices are estimates for a nightly rate, in other words, what you could expect to pay per person when there are two people sharing a room every night on safari. The rates are not fixed in stone and are subject to change but do offer a 'ballpark budget' for you to work around. Rates are seasonal (meaning different prices at different times of year) and safari camps and lodges generally include meals, accommodation, some activities and a selection of drinks. Transport or transfers to and from the camp are excluded (these can be by light aircraft or helicopter). To keep it simple, we've given just the lowest season price and the highest, but bear in mind that we often have special offers that will override these guideline rates.
It's also important to understand that you can mix and match levels of luxury. You may want to start off with a simple guest house in the Chobe National Park and work your way up to a two-night splurge in the Okavango Delta before you fly home. Because your safari will be unique, nothing is off-limits.
Let's dive into the money pit… or, rather, meerkat pit since we use our special meerkat rating to determine comfort levels across budgets.
Rating a safari camp is not like putting stars on a hotel. This goes beyond how comfortable the room is – it's the service, the guiding and most importantly – the wildlife experience. We've used our expert knowledge and taken everything into account with our Meerkat rating:
2 Meerkats         Won't break the bank
3 Meerkats         A few little extras
4 Meerkats         All the bells and whistles
5 Meerkats         Now we're talking
6 Meerkats         Fit for royalty
Chobe National Park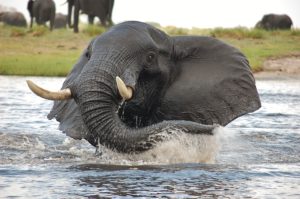 2/3 Meerkats = budget / standard
The Old House Low USD230 / High USD230
The Garden Lodge Low USD310 / High USD410
Tlouwana Camp Low USD350 / High USD460
Chobe Elephant Camp Low USD340 / High USD510
4/5 Meerkats = mid-range / superior
Chobe Bakwena Low USD370 / High USD500
Muchenje Safari Lodge Low USD460 / High USD760
Chobe Game Lodge Low USD590 / High USD1 030
5/6 Meerkats = luxury and more
Chobe Chilwero Low USD650 / High USD1 230
Zambezi Queen houseboat Low USD590 / High USD720
Ngoma Safari Lodge Low USD590 / High USD1 030
The Okavango Delta, Moremi Game Reserve and Khwai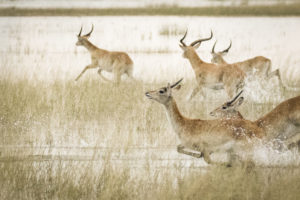 2/3 Meerkats = budget / standard
Khwai Guest House Low USD280 / High USD330
Oddballs Camp Low USD330 / High USD520
Sango Safari Camp Low USD360 / High USD640
Bushman Plains Camp Low USD530 / High USD900
4/5 Meerkats = mid-range / superior
Pelo Camp Low USD520 / High USD900
Mma Dinare Low USD530 / High USD1 080
Camp Okavango Low USD590 / High USD1 030
Camp Moremi Low USD590 / High USD1 030
Kanana  Low USD545 / High USD1 110
Duba Explorers Low USD915 / High USD1 900
Gomoti Plains Low USD720 / High USD1 350
5/6 Meerkats = luxury and more
Little Vumburu Low USD1 080 / High USD2 090
Duba Plains Low USD1 530 / High USD3 050
Tuludi Low USD920 / High USD 1930
Eagle Island Lodge Low USD1 350 / High USD2 590
Sandibe Safari Lodge Low USD1 140 / High USD2 400
Chief's Camp Low USD1 360 / High USD 3 290
Mombo Camp Low USD2 200 / High USD3 800
The Central Kalahari Desert and Makgadikgadi and Nxai Pans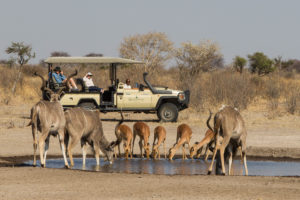 2/3 Meerkats = budget / standard
Planet Baobab Low USD250 / High USD280
4/5 Meerkats = mid-range / superior
Kalahari Plains Low USD720 / High USD1 030
Dinaka Low USD550 / High USD1 110
Camp Kalahari Low USD600 / High USD960
5/6 Meerkats = luxury and more
San Camp Low USD1 500 / High USD1 800
Jack's Camp Low USD1 800 / High USD2 200
Have you considered camping?
If just looking at the figures above have got your pulse racing (and not in a good way), then don't overlook camping as really cost-effective way to see Botswana. We don't mean sending you off in a sagging tent with a shovel and some tent pegs: we mean a fully guided safari in comfortable tents with three meals a day in some of the country's loveliest areas. Depending on how much of a 'vacation' you want, you can choose how much you participate in camp life: the more you help out with simple tasks like pitching your own tent, the cheaper the rate will be.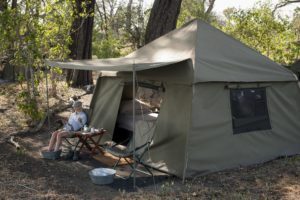 If a large group of you want to travel to together then you may be able to take over an entire campsite for yourself. Otherwise, your group will include people from all over the world, adding another exciting element to you camping adventure – you could make lifelong friends from just one trip.
The guide will handle all the 'admin' of the camping trip like driving, refueling, securing campsites, stocking up with supplies and so on. All you really need to do is look out for wildlife, smell the wild sage in the bush and feel the Botswana sun on your skin…
2/3 Meerkats = budget / standard
Bush Ways Safaris Rhino (semi-participation) Low USD200 / High USD210
Bush Ways Safaris fully serviced (no guest participation) Low USD430 / High USD450
4/5 Meerkats = mid-range / superior
Letaka Safaris Northern Highlights Low USD390 / High USD630
5/6 Meerkats = luxury and more
&Beyond Superior Explorer Low USD570 / High USD1 010
As you can see, there is no 'one budget fits all' for a Botswana safari. Our expertise lie in taking what you can afford and working with it to squeeze as much value and experience as possible out of it. Botswana is our home and safaris are our passion so let us do all the hard work for you!